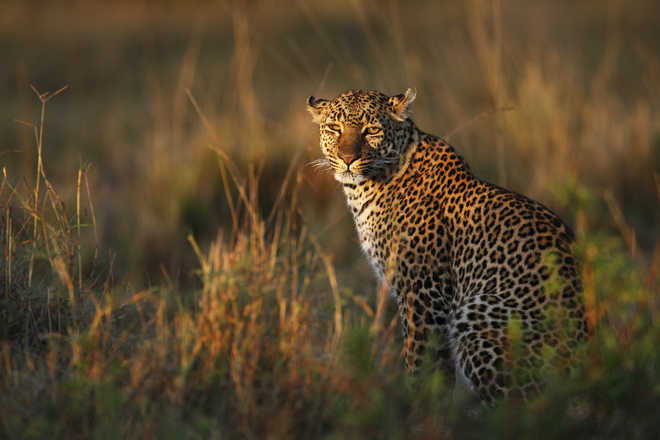 Gaurav Kanthwal
Thirty years after Jonathan and Angela Scott first published The Leopard's Tale, the Kenya-based authors are out with an updated version of the natural history book that focuses solely on the life of leopards in Kenya's Masai Mara National Reserve.
Nothing much has changed about the plight of leopards since the 1970s except that their survival has become even more difficult. The secretive carnivore has disappeared from almost 40 per cent of its natural habitat all across the world. Even in the Mara reserve — home to 'Big Five' — elephant, rhino, buffalo and lion are a common sight on a safari, but leopard commands a ghostly reputation.
The second edition of The Leopard's Tale explores big cats' elusive life further. The behaviour and common traits of the animal have been described in detail, narrating a leopard's everyday life. The book highlights the authors' painstaking research that shows in their narrating even small, insignificant instances that, however, provide a deep insight into the lives of these unpredictable, reclusive cats.
Chui (meaning leopard in Swahili) and her cubs, Light and Dark, Mara, the Buffalo Female, Half-Tail, Zawadi, Malaika and Safi and Nkaiyoni and Olive are not just the subjects of Scotts' research, these big cats are also the star characters of the book whose life parodies a Bollywood masala film — full of emotions, hardships, achievements and glory in the climax.
Watching these big cats for decades, the Scott couple says the notion of cowardice or bravery is highly misplaced in the animal kingdom. As in the real world there are unlikely heroes rising to a grim or tragic situation, in jungle, too, it all depends on an animal's instinct and the situation it is faced with. Even a meek and shy gazelle can show exceptional courage when facing a formidable opponent. And big cats, predators at the top of food chain, can beat a hasty retreat against the onslaught of an army of the wildebeest.
The 228-page book not just describes the life of leopards but contextualises their existence in the Kenya's Masai Mara and Tanzania's Serengeti National Park's vast ecosystem stretching across 9,600 sq miles. In this bionetwork, topography, weather conditions and seasonal migration mould their life patterns as they fight the battle for survival.
To simplify things for the reader, there is a detailed map in the beginning. The photographs of leopards at their frequently visited locations add to the visual and emotional appeal of the book.
It is quite natural that after spending countless hours in the animal kingdom, a researcher may develop sentimental attachment with his/her subjects. An impending danger to these subjects may goad the researcher to intervene and save the life of the animal but that would tantamount to playing God in the animal kingdom. The important lesson for them is not to interfere but be a silent observer to unlay the mystique of the kingdom of the wild.