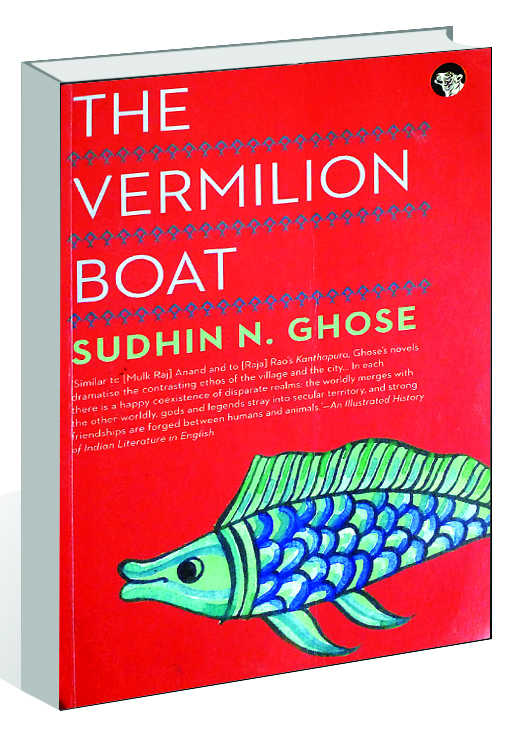 Jayanti Roy
Sudhin Nath Ghose was a journalist and novelist whose writings drew inspiration from the many Indian myths, fables, legends and epics. Originally published in 1953 and being reissued almost 60 years later, The Vermilion Boat is the third book of a quartet of novels that Ghose is best known for. And Gazelles Leaping (1949), Cradle of the Clouds (1951), and The Flame of the Forest (1955) form rest of the series.
These novels encompass the life journey of a person from childhood, adolescence, early youth and a mature adult. Often dubbed autobiographical, these books give us a glimpse of the times in which the author lived.
The protagonist, whose name we do not come to know, (the novel is written in first person), comes to Calcutta as a scholarship student from probably a rural place, along with a long list of instructions from his guardian, Jogin da. Though the blurb describes the protagonist as a young orphan, he does have a family consisting of his grandmother and his maternal aunt living in a dilapidated mansion in Chandernagore with a library full of books written in languages 'no one reads nowadays'. Ghose takes us to a Calcutta of some unknown era, rich with its idiosyncratic antiquities where tabloids publish exciting but false stories, people pray for bigger dose of sensational news, where Hindus and Muslims live intertwined lives in perpetual brotherhood and hatred. The metropolis harbours a medley of characters — a Chinese boy Tu Fan, Profulla babu, a professor, Comrade Chum, the ubiquitous revolutionary and Roma, an unmarried Anglo-Indian Latin tutor who later becomes the love of his life. Despite finding a mentor in Profulla babu and companionship with Roma, the protagonist still pines for the clean French colony of Chandernagore with its pastoral landscape and comforting daily rituals of his grandmother. His past and present worlds intersect, overlap, appear and disappear from his consciousness.
The protagonist comes across as a peculiar person. He dates Roma, who is older than him, and for which he is constantly ridiculed by his hostel mates. He learns Latin — a language not of much use. His hobby is equally odd — to take brass rubbings of inscriptions on epitaphs, ex-votos or memorials. He befriends a porpoise trapped in a temple pond. In fact, he seems to be a collage of eccentric traits.
The narration, though stylised, is light and never tires the reader with either heavy vocabulary or dense text, but is full of multiple meanings.
Ghosh's writings have been compared with his contemporaries Mulk Raj Anand and Raja Rao. This novel, specially, has several similarities with Rao's Kanthapura. In this book, too, the main character, Moorthy, leaves for the city where he adopts Gandhian philosophy and starts living with an educated widow — quite similar to the hero's journey in this book. However, Ghosh distinguishes his work by lending the novel a dreamlike quality, cutting away the ropes of reality which binds us to the harsh truth of life.