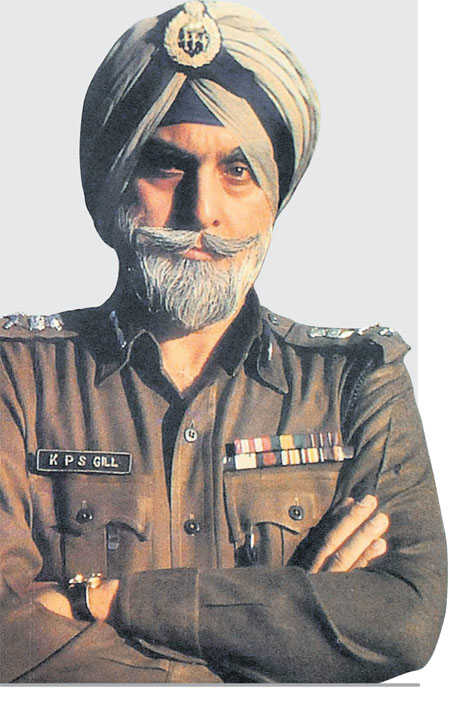 Sadhavi Khosla
HOW would you describe the loss of a man who helped the country's highly sensitive belt gain its freedom from militancy? For me, it is extremely disturbing.
It was in the beginning of 2015 that in connection with my research on drugs and the thought of writing a book made me meet the man of courage, Kanwarpal Singh Gill. I remember sending him a text message that I was doing research on Punjab and would need his time and help to know the state's situation through his eyes. I was surprised by his immediate response. He was elated that at least someone wanted to talk to him about the land which had his heart, the beautiful Punjab.
Having witnessed the horrors of terrorism during my early childhood in Punjab back in 1988-1995, I had huge respect for the man. For me, he was a real hero who valiantly fought militancy and kicked it out from my state. So, when I thought of writing about the plight of my state, the first name to strike my mind was that of the fearless KPS Gill.
Before meeting him, I had never thought of co-authoring the book with him. In fact, I did not go to meet him with the thought that he would become the co-author. I just knew that he was a brain bank, an expert on Punjab and he could help me get genuine information about the state. Once our first meeting was about to be concluded, his question "So, when do we start?", amazed me.
I replied, "Sir, you tell me."
His response was quick: "Let's start from tomorrow!"
He was honest that he did not have the update on the latest information on drugs but whichever he could contribute, he did. He guided me on whom I should meet to know the situation of drug abuse in Punjab and even helped by fixing meetings with many people who facilitated my research.
A thoroughly insightful man, KPS Gill was someone who always believed that if a person has a will, he can do anything. He was always of the view that Punjab can come out of the problem of drugs and all that the state needs is a strong iron hand to attain this. He shared his experiences with Rajiv Gandhi and how the latter gave him a free hand to handle Punjab's insurgency. He held Rajiv Gandhi in very high regard and would often say that the Congress lost everything the day Rajiv died. He also talked to me about his concern about the country going toward one direction, in one party's hands. In his opinion, it is not healthy for any democracy to have one-party rule. And, so, he was deeply concerned about the Congress party's failure to revive. Occasionally, he used to ask about the Congress Vice-President Rahul Gandhi and his plans for the revival of the Congress.
My last meeting with him was 10 days ago. He was quite unwell that day and we talked about the Naxalite attacks in Chhattisgarh and how the government there did not cooperate with him and did not take his suggestions. However, with the Congress party winning the recent election in Punjab, he was happy with the fact that the state was going to be "in safe hands". His optimism about Captain Amarinder Singh's victory was apparent. I can clearly recall him sharing his experiences with political figures like Prakash Singh Badal. As a matter of fact, he shared quite a few instances when he was called by Narendra Modi in 2002 to be appointed as the security adviser to the state of Gujarat. The best thing about him was that he never talked negatively about anyone — not even about his worst critics.
To me, he will always be the man who was friends with everyone — someone who never indulged in disparagement, ever. His views about Punjab were always reassuring. He was hundred per cent sure that militancy would never return to Punjab. Whenever I expressed my concern about militant attacks on Punjab, be it after the 2016 Pathankot attack or the 2015 Gurdaspur attack, he expressed firm views and was adamant in his belief that the state would stay safe from militancy.
Exceedingly honest, this man sure had his pride intact and never wanted to go to anyone on his own. Always convivial and absolutely welcoming, he wanted people to come to him, talk to him and take his suggestions and not the other way round. For the past few years, he had been spending a lot of time in Vrindavan, where he was involved in a lot of charitable work as well.
I can proudly say that KPS Gill was a true secular figure — much above the delineations of being a Hindu, a Muslim or a Sikh. He used to say, "I am an Indian first". Now, when I try to visualise him, I recall him being dressed in a well-ironed, crisp, white Pathani suit, usually teamed with a pink-coloured turban. Always punctual for his meetings, he sat in his library with thousands of books to accompany him, and a large 56-inch television right in front of him, on which he used to catch all the news. Despite being highly diabetic and following many dietary restrictions, he was fond of mutton and occasionally loved to enjoy his favourite food with a drink alongside. Whenever I met him, his face used to brighten up. Of late, he would address me as "Punjab di sherni". The book, Punjab —The Enemies Within, was his desire to help people see the reality of Punjab. His deep knowledge about all the scriptures, be it the Guru Granth Sahib, the Bhagavadagita, or the Ramayana, gave me an insight into his spiritual side, something that I might have missed had I not met him in person. He was someone with whom you could talk about anything in the world. A brilliant orator, his love for literature and command over the English language was worthy of admiration.
I personally feel as someone who was given the honour of being "Punjab's Sher", KPS Gill failed to get his due, no matter whether it was because of the charge of human rights' violations that he had to face, or any other incident. Little did anyone try to think that he was given Punjab at a time when there was no other choice for him to save his land from insurgency. I fail to understand the Government of India's incompetence to give this man the honour he deserved, being fully aware of the situation that he was made to handle. He should have been made the Governor of a state. Unfortunately, he wasn't. The government remained unsuccessful in fully utilising the talent that this man was blessed with. He should have been given a larger role. His regrets at not being able to serve Kashmir will always hound me for as long as I live. I feel that he truly deserved the Bharat Ratna and should be given his due. My heartfelt tribute to the braveheart hero.
The writer is the co-author of "Punjab —the Enemies Within" with KPS Gill