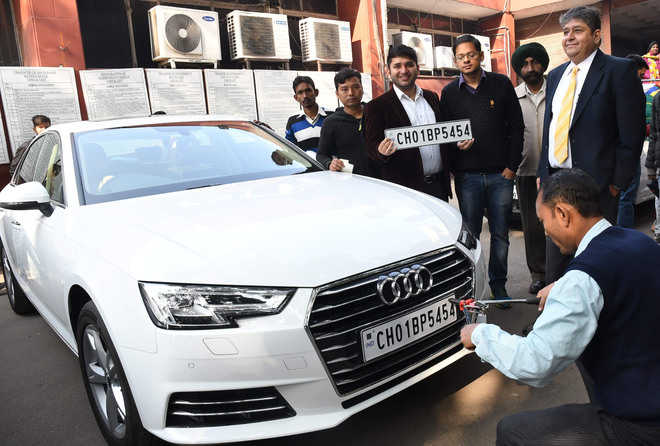 Tribune News Service
Chandigarh, November 30
After a gap of over one-a-and-half-year, the UT Administration started affixation of High Security Registration Plates (HSRPs) from today.
KK Jindal, Secretary Transport, launched the service at the office of the Registration and Licensing Authority. Amit Talwar, Director Transport, and Rajiv Tewari, Additional Secretary, STA, were also present on the occasion.
In the initial stage, affixation of High Security Registration Plates will start only for new vehicles (private and commercial) registering in Chandigarh at four notified locations i.e. offices of Registration and Licensing Authority, Sector 17; SDM(S), Sector 42; SDM (E), Industrial Area, Phase I, Chandigarh; and office of the State Transport Authority, Sector 18, Chandigarh. The affixation of previous registered series will be taken up shortly.
Owners getting their vehicles registered shall apply for the affixation of HSRPs at their respective offices on the basis of the receipt of road tax. In case, if the owners of the vehicles of the above series do not get HSRP plates affixed on their vehicles, the Traffic Police, UT, will be asked to initiate the process for challaning their vehicle.
Sanjay Ganjoo, director of Test Security License Private Ltd, said the firm had already set up infrastructure at these four places. HSRPs of old numbers would be installed as per the schedule to be notified by the Administration. Delay in finding new vendor led to a huge backlog.
He said the company would clear the backlog of around 70,000 vehicles in a phased manner. Employees would work overtime to clear the old cases. The process of affixation of HSRPs for series CH01-BG, CH01-BH and CH03-N was stopped in July 2016. Under the revised rates approved by the Administration, a resident will have to pay Rs 160 for two-wheelers and Rs 365 for four-wheelers.
Top Stories