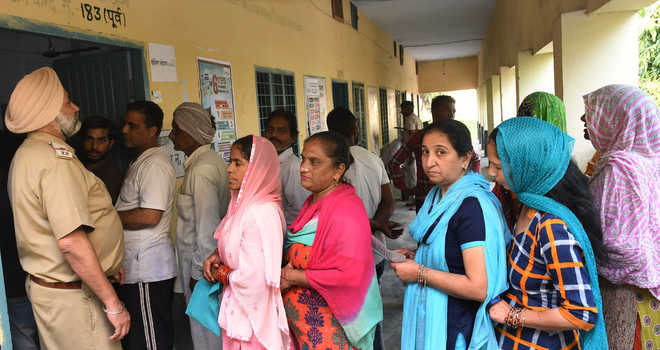 Nitin Jain
Tribune News Service
Ambala, October 21
Tempers ran high and chaos prevailed at several polling stations as minor incidents of violence were reported during voting at four Assembly constituencies – Ambala Cantonment, Ambala City, Mullana and Naraingarh – in Ambala district here today.
However, Returning Officer-cum-Deputy Commissioner Ashok Kumar Sharma claimed that polling was peaceful. "No untoward incident was reported and it was all peaceful exercise," he said at the end of the polling.
As democracy was lost in the elections, the enthusiasm of the voters notwithstanding, the high and mighty candidates – supported by both ruling BJP, the Opposition Congress, the rebels, the INLD, its offshoot JJP and the BSP – had their own way.
Polling began at 7 am and continued till 6 pm, officials said. An estimated 65 per cent turnout was recorded, with Naraingarh witnessing brisk polling and recording the highest 80 per cent and Ambala City registering the lowest 60 per cent voter turnout, according to the tentative official figures available till 8 pm. Ambala's turnout was on a par with Haryana's average turnout of 65 per cent.
The tentative figures revealed that as many as 5,47,857 of the total 8,42,852, voters exercised their franchise to elect four Ambala MLAs. Even as the final figures were yet to be compiled till the reports last came in, the voter turnout was comparatively less as compared to 76.41 per cent voter turnout recorded in the 2019 Assembly elections in Ambala district.
With the reports of bogus voting, rigging and minor violence going mostly unnoticed, the elections left a bad taste in the mouth of many. With the affected candidates crying foul, it was the candidates succeeding in their "mission", who had the last laugh.
But the story was not the same in all Assembly segments. Several segments saw peaceful polling and maximum voter turnout.
Polling was disrupted for some time at some polling booths following snag in the electronic voting machines (EVMs).
Supporters gave a tough time to the police in several areas, where tension prevailed throughout the day, as heavy police force intervened many a times to ward off supporters of rival groups to avoid clashes. Sources said several impersonators were held at the polling booths and were let off by the officials after the polling was over as no formal complaints were received against them. Most of the bogus voters, who were detected from several wards, were either young boys or migratory labourers posing as voters.
However, the police denied any such incident while claiming that no case was registered in this regard till the reports last came in. The police had to call additional force in some areas to bring situation under control just before the polling was scheduled to end.
Vij, Goel, Nirmal confident
After the polling was over, both sitting BJP MLAs – Anil Vij (Ambala Cantonment) and Aseem Goel (Ambala City), former Minister Nirmal Singh (Ambala City), who along with his daughter Chitra Sarwara (Ambala Cantonment) is contesting as an Independent after being denied Congress ticket, former MLA Jasbir Singh of the Congress in Ambala City, former MLA Rajbir Singh of the BJP in Mullana and Shalley of the Congress in Naraingarh – exuded confidence of their victory.
PWDs facilitated
Persons with disabilities (PwDs) were ferried from their homes and sent back after facilitating them to exercise their franchise by the District Red Cross Society volunteers.
Early birds
Vij had cast his vote at booth number 122 in Shastri Colony, Ambala Cantonment at 10.30 am, while Goel, Nirmal, Chitra, Jasbir, Rajbir and Shalley were early birds to exercise their franchise.
Enthusiasm writ large
Enthusiastic voters were seen at several places. A bridegroom went to cast his vote in Mullana in the Ambala parliamentary constituency before solemnising his marriage. Voters queued up since early morning to cast their vote. There were reports of a few centenarians also exercising their franchise. Arjun Singh (118) exercised his franchise at a booth in Naraingarh, while 90-year-old Phoolan Devi, who reached the booth on a wheelchair, cast her vote in Mullana. They were believed to the oldest voters in Ambala district.
A large number of women were seen in queues at the tastefully decorated 'Sakhi Matdan Kendras', which are exclusively run by women and have been set up in each Assembly segment.
Officials said necessary arrangements, including those pertaining to security, were put in place to ensure smooth polling. As many as 908 polling booths had been set up at 509 locations across the district.