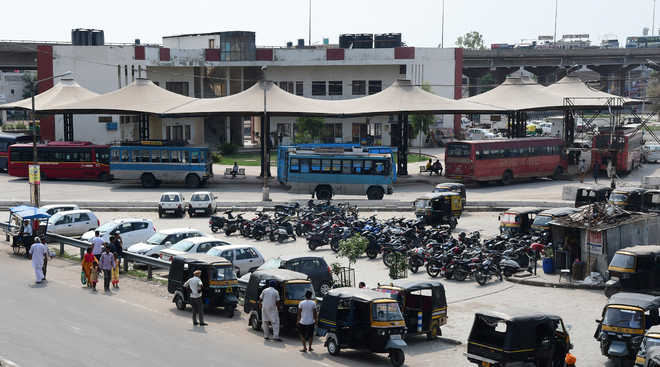 Satinder Pal Singh
Zirakpur, June 26
The two-storey bus stand at Zirakpur, built at a cost of Rs 5.5 crore, seems to have been rendered useless due to faulty planning in its construction as the traffic plan for the entry and exit of buses has been prepared without any consultation with the National Highway Authority of India (NHAI).
Sources said its building, constructed by the Public Works Department over three years ago, has not been used since then. The bus stand has three entry and exit points, one each towards the Chandigarh-Ambala highway, Chandigarh-Panchkula road and the Zirakpur-Panchkula road, further aggravating the traffic problem.
Almost three-an-half-years after its inauguration in 2014 by the then Deputy Chief Minister Sukhbir Singh Badal, the bus stand now wears a deserted look. Moreover, it is yet to be put to proper use as long route buses do not enter it, instead picking passengers from the main road. The bus stand has been constructed for short-route buses, including private ones commuting between Chandigarh-Ambala and Chandigarh-Panchkula. Even the shops at the bus stand do not have any takers.
Moreover, no time table of buses has been displayed. The PRTC had tried to lease out the commercial space there but all four shops found no takers. Apart from this, two community halls built on the first floor of the building has been lying defunct. "The whole building is lying vacant with only an office of the traffic police control room running from it," said a PRTC security guard.
The new bus stop on the Zirakpur-Ambala highway near Sethi Dhaba too paints a picture of neglect as there is nothing in the name of facilities for passengers. There is no facility of drinking water and toilets.
Manjit Singh Narang, managing director, PRTC, Patiala, expressed concern over the faulty planning of the bus stand without the existence of a service road. He said efforts would be made to introduce long route buses from Zirakpur to make it fully operational.
Top News