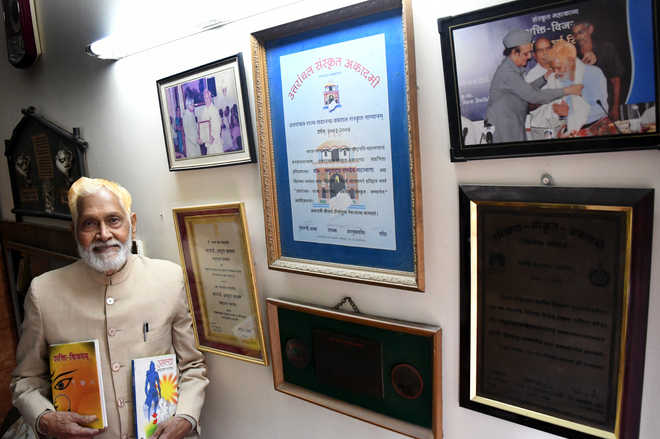 SD Sharma
Endowed with an intuitive vision and retaining an impassioned impulse for literary creations – poetry, prose and drama on diverse themes, the gifted author, erudite scholar and Vedic philosopher, Dr Mathura Dutt Pandey (92), has added another feather to his cap by winning the Haryana State Sanskrit Akademi Gaurav Samman for 2014. The honour carries a citation, memento and a cash prize of Rs 2 lakh. He will be honoured at a state-level function for contribution to diverse genre of Sanskrit literature, especially the modern drama.
Hailed as a poet and playwright of conscience, Dr Mathur Dutt Pandey, a retired teacher, achieved mastery over the Sanskrit language and literature during his formative years as an educationist of repute in Kathmandu and Holland.
Credited with 27 literary publications in Hindi and Sanskrit, the Panchkula-based scholar is still not complacent, but actively engaged in capturing new trends in his writings.
Twice the winner of the Kalidasa Samman and the Punjab Rajbhasha Shiromani Sahityakar Award, Pandey has been decorated with the President's coveted Lifetime Achievement Award-2006 and the Uttaranchal Sahitya Akademi Award. Dr Pandey did his postgraduation in Hindi and PhD in Sanskrit. He had served at the Maharishi Vedic University, Holland, where he devised a three-month learning course in Sanskrit. He also taught at Tribhuvan University, Nepal, for years and staged nine of his Sanskrit plays with the support of the Indian embassy there.
Sharing his love for Sanskrit, Dr Pandey says much of the ancient wisdom and Vedic culture come to us through it.
Besides, he says Sanskrit is the most suitable language for computer. "However, despite being a language of future, it is losing its stature," rued Pandey.
"I am in agreement with the change in milieu. The concept and literary treatment of plays needs innovation. My drama Kalgiri (Kargil) eloquently represents the modern national psyche. My collection of plays like Pallav Panchkam and Dyava Prithiviyam have been widely staged in Nepal and the university youth festivals," he said.
An avid reader, Dr Pandey continues his research and writings in Sanskrit with a firm resolve to bring back the glory of the language. He has plans to produce 25 more short plays in Sanskrit, all intertwined with contemporary issues. His vision for the formation of a global government through his poem "Global Anthem" speaks volumes of his secular mind.
Top News
Development in Himachal possible as people voted BJP to powe...
Addressing a rally in Baramulla, Shah asks whether terrorism...
The Ministry of Defence spokesperson from Tezpur says the mi...
45-50 people, including women and children, were on the bus
Reason for the crime not yet known