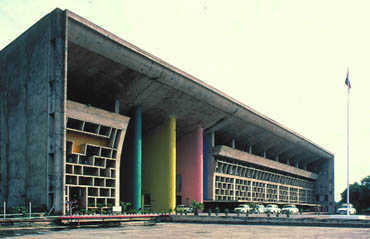 Tribune News Service
Chandigarh, September 18
Just about a week after Panjab University appealed against the order of a Single Bench on the continuation of Prof Emanual Nahar as Panjab University's Dean Students Welfare, a Division Bench of the Punjab and Haryana High Court today disposed of the matter after making it clear that the Senate would consider the agenda on the DSW's extension.
The Bench of Rakesh Kumar Jain and Justice Arun Kumar Tyagi also made it clear that neither Professor Nahar nor Prof Jagat Bhushan would hold the charge. However, it would be held by the seniormost professor of the university. The Bench added that the Senate would meet on September 28 and consider the matter. The Bench also made it clear that the proceedings would be video-recorded in line with the established system. All other issues already pending before the Single Judge would be dealt with by it.
The Bench directed the appellant-university to produce the original record of the August 22 Senate meeting, when the decision was taken that the charge of the DSW (Men) would be held by Professor Bhushan. Professor Nahar had claimed that 48 senators had favoured his continuation during the meeting before providing written information to the VC. Yet he was removed from the post. Taking up Professor Nahar's plea through counsel Gurminder Singh, Gurnoor Singh and R Kartikeya, the Single Bench had earlier directed the university and other respondents to restore "status qua ante as it existed a day prior to the date of the Senate meeting on August 22 by forthwith allowing the petitioner to continue as the DSW". Status qua ante indicates previously existing state of affairs.
The Bench had added that the decision to implement the impugned order dated August 22 would be kept in abeyance by the respondents till further orders. The impugned order had made it clear that the charge of the DSW (Men) will be held by Professor Bhushan.
The Bench had also directed the respondents to take appropriate steps to convene a Senate meeting within seven days to consider the recommendations dated November 27, 2016, of the Syndicate and put the matter to vote, if need be, to decide on the same in accordance with law. The Syndicate, at its meeting on that date, recommended the appointment of the petitioner. The Bench had added that the petitioner was originally appointed the DSW on November 27, 2016, and had been continuing as such ever since. "It will be appropriate to maintain equilibrium, continuity and also in the interests of justice and equity not to rock the boat at this stage, until a final decision is taken by the Senate".
Top Stories