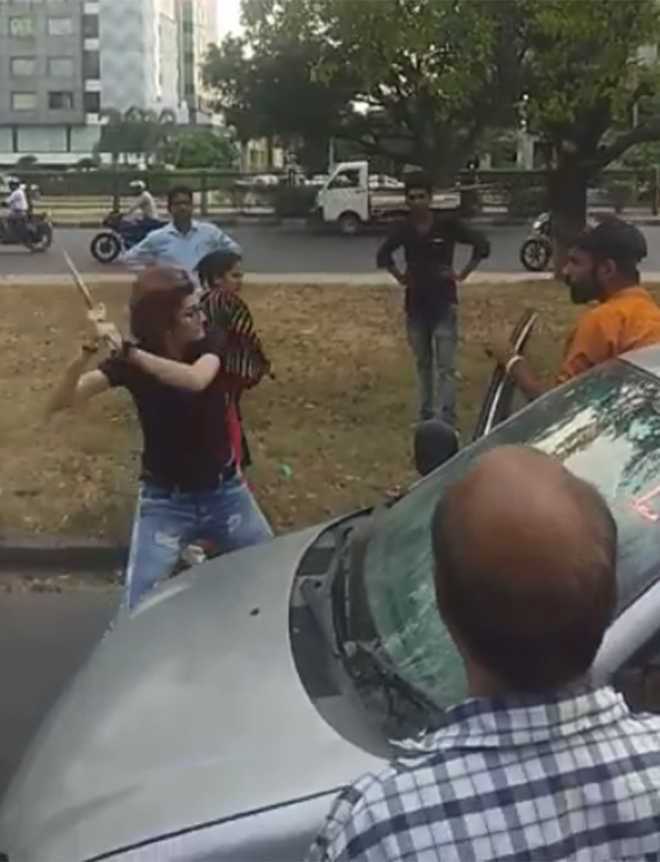 Tribune News Service
Chandigarh, October 22
Allegedly caught in a camera while attacking a man in a road rage case, the accused has claimed that she was the injured party. Behind bars for four months after the incident, the 25-year-old woman driver, Sheetal Sharma, was today granted bail.
"The medico-legal report shows that the complainant did not suffer any serious injury. It shows that the accused was beaten by the complainant and despite a complaint to the police, the police did not register any complaint or statement of the accused qua her injuries," her counsel Ajay Sanghroha contended in the bail plea.
Sheetal was arrested under Sections 308 (attempt to commit culpable homicide), 323 (punishment for voluntarily causing hurt), 341 (punishment for wrongful restraint) and 506 (punishment for criminal intimidation) of the IPC on a complaint of Nitish, a resident of Sector 29. In his complaint, Nitish stated that he was heading from Tribune Chowk towards the Poultry Farm roundabout through a slip road along with his family in a Santro on June 25.
Sheetal Sharma, a resident of Mohali who was driving a Maruti SX4, was reportedly reversing her car in a rash and negligent manner, while he was coming from the rear side. When he asked her to be careful, the girl had an argument with him and then pulled out a rod from her car and repeatedly hit him.
In the bail application, the defence counsel submitted that Sheetal was in jail since June 26 and she was falsely implicated in the case.
The counsel said, "From the mechanic's report, it is clear that it was not the complainant's vehicle, but the accused's vehicle which was broken by the complainant and allegations have been falsely levelled against the accused."
The counsel stated that the first bail application of the accused was dismissed as the medico-legal report of the complainant had not been received by then.
"Since the trial is likely to take a long time, no useful purpose will be served by keeping the accused in custody. Also, Sheetal will not misuse the concession of bail and will appear on every date of hearing," the counsel contended.
The court of Additional District and Sessions Judge Sanjeev Joshi granted the bail after the accused furnished bail bonds of Rs 50,000.
Top Stories