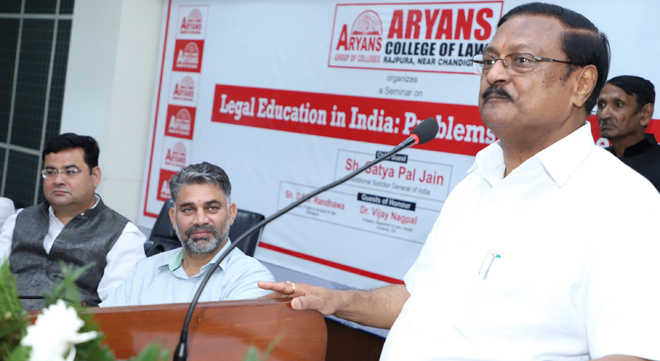 Tribune News Service
Chandigarh, September 14
Hard work is the key factor to success as there are examples of numbers of people, who rose from small families and are now serving the nation.
This was stated by Satya Pal Jain, Additional Solicitor General, while addressing a seminar on "Legal education in India: Problems and perspective", organised by Aryans College of Law, Chandigarh, today.
DPS Randhawa, president, Punjab and Haryana High Court Bar Association, Dr Vijay Nagpal, professor, Department of Laws, Panjab University, Ashok Mittal, chairman, Punjab Lawyers Association, and president, District Bar Association, Ludhiana and Manuj Bhardwaj, advocate, Supreme Court were the guests of honour on the occasion.
Dr Anshu Kataria, chairman, Aryans Group, presided over the function. The seminar was also attended by LLB and BA-LLB students of Aryans College of Law.
"Legal profession is the most sacred and Noble profession," Jain said while adding that, "An attempt should be made to increase the number of judges. Technology should be adopted widely. Internal mechanism to resolve disputes should be made stronger."
DPS Randhawa said to serve the purpose of legal education, updating in system was the need of the hour upon which the government need to work.
Dr Vijay Nagpal said the biggest gap in the legal education system was between the theoretical and practical parts. "There is need to mushroom the growth of law institutes," he said while adding that there was lot of confusion between Bar Council of India (BCI), MHRD and UGC.
While discussing problems Ashok Mittal said, "The Indian institutions are lacking basic amenities including good infrastructure. Students must put in sincere efforts on professional system, but with the time the dignity of lawyers is going down."
Top Stories