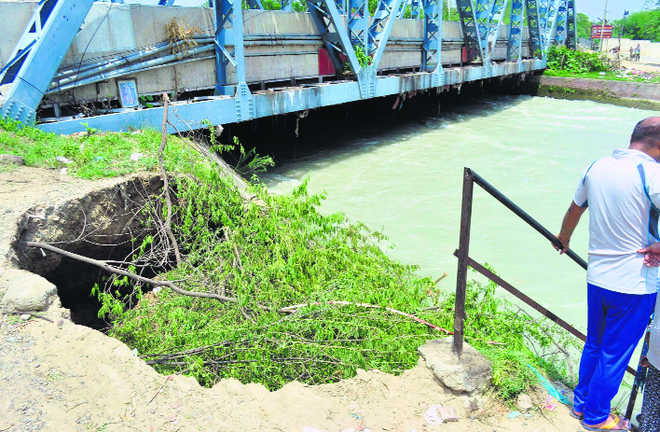 Tribune News Service
Patiala, June 30
A side wall of the main Bhakra canal caved-in near Century Enclave police post on the Nabha road leaving a 15-foot-wide gap in the late hours of Friday.
Fortunately, the cave-in did not lead to the canal breach. However, experts believe that possibility of the breach could not be ruled out following heavy rains in the next few days. "The threat of floods looms large if breach occurs. The side wall must be reparied immediately," they added.
Farmers of the nearby villages are worried because breach could destroy their paddy fields. Divers along the Bhakra canal said the gap had begun to appear in the early hours on Friday. Plants and trees on both sides of the Bhakra mainline have reduced the water-carrying capacity of the canal. In case the BBMB releases large volume of water then it may also cause flood like situation and pose danger to the paddy crop.
The BKU (Dakunda) member, Avtar Singh Kaurjiwala said, "The authorities should immediately plug the gap. We have bad experience of last year when officials did not pay attention to such problems."
Chander Mohan, executive engineer, Bhakra mainline said, "We have identified the burrow. People need not worry about it. Hopefully, the gap will be plugged in by Sunday evening."
Top Stories