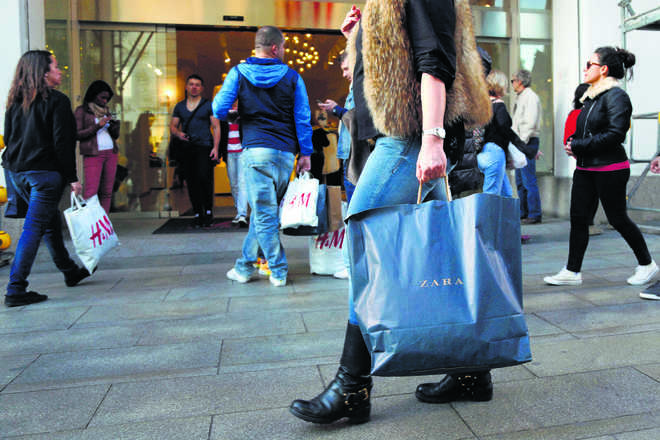 The Consumer Forum has awarded a good and genuine decision regarding charging for carry bags at the time of purchasing goods. Despite this, stores and shopkeepers charge for carry bags without any hesitation. They should not ask customers to pay for carry bags and boxes. The government should frame rules for the purpose. It is an injustice with the public if shopkeepers continue to charge for carry bags. Generally, shopkeepers weigh the box along with material. Strict action should be taken against defaulters. The public should also raise their voice against this injustice. Shopkeepers should supply carry bags free of cost for carrying goods. It is the moral duty of stores and shopkeepers to provide best services to their customers.
Sumesh Kumar Badhwar, Mohali
---
Keep round-the-clock vigil on shops
From time to time the higher authorities instruct shopkeepers to stop charging for carry bags but in vain. Many shopkeepers charge their customers for carry bags. To stop this, the officials concerned should keep round the clock vigil on shopkeepers, who charge for carry bags. They should tell them to stop this practice. Companies should be asked not to print bar codes on carry bags. A dedicated helpline should be set up so that customers can complain about shops charging for carry bags. These steps can prevent shopkeepers and stores from charging for carry bags.
S Gulati, Chandigarh
---
Impact of court orders yet to be seen
It is a fact that retailers charge for carry bags. Offenders should be sternly taken to task by the authorities concerned. Retailers should be taken into confidence to fall in line with the government policy for not charging for carry bags. Customers should not be forced to pay for such things. It is yet to be seen whether consumer court orders regarding not charging for carry bags from customers are being followed by retailers in the tri-city or not.
Bharat Bhushan Sharma, Chandigarh
---
Store owners still violate orders
Even now, there are retail stores, which charge for carry bags. This means such store owners are violating the consumer forum orders. The authorities in the tricity should get a public notice in newspapers published from the tricity with reference to the orders passed by the consumer forum banning all retail stores from charging extra for carry bags from consumers.
Balbir Singh Batra, Mohali
---
Moral duty of seller to provide carry bags
Retail stores have not completely stopped charging for carry bags in the tricity as yet. I had an opportunity to visit a branded retail store in the tricity this week, whose representative told me on enquiry that the carry bag was chargeable. There is a long list of retail stores and retailers, who charge for carry bags. The true picture about charging for carry bags or otherwise by retailers/stores cannot be ascertained. The recent orders of the consumer forum restraining retail stores from separately charging for carry bags are quite logical. It's also the moral duty of the seller to provide a carry bag to customer for the product he/she is selling. Moreover, carry bags should have advertisement of retail stores, which indirectly helps in promoting products being sold by them. To ensure free carry bags, retailers should be instructed to display boldly at their stores that no charge would be levied for carry bags separately. A toll-free helpline number must be provided to complain against non-compliance of instructions. Display of this helpline number by retailers at their stores should be mandatory. This strategy will definitely curb the malpractice of separately charging for carry bags by retailers. Moreover, customers should also be made aware in this regard to eradicate the unfair practice. There must be a provision for penalising retailers, who charge for carry bags notwithstanding orders of consumer forums, which will also serve as deterrent in this regard.
Rajender Kumar Garg, Zirakpur
---
People must oppose paying for carry bags
Customers are not permitted to take carry bags inside retail outlets. Therefore, post shopping option is to accept carry bag from the store. Despite several orders from the consumer forum retailers in utter disregard continue to charge for carry bags. In a recent complaint by a customer, who paid Rs 3 for a carry bag, at the Bata retail shop in Sector 22, the consumer forum not only ordered the store to deposit Rs 5,000 in its legal aid account, but also pay Rs 3,000 to the complainant for mental harassment, besides imposing Rs 1,000 as litigation charges and of course refund of Rs 3 as the cost of carry bag. This verdict is laudable. It is a clear and bold message for retailers to stop the unethical practice. What is lacking is public awareness about their rights. So, the government through the print and electronic media must ensure that customers oppose payment for carry bags whenever insisted by stores/retailers. A complaint must be lodged with the consumer forum with authentic proof and where deficiency in service is established, still harsher penalty be imposed to deter violators.
SS Arora, Mohali
---
Despite profit, stores charge for carry bags
Despite earning a huge profit, branded stores are charging a high price for carry bags, which are used to advertise their products. Ever since a consumer has dragged a branded shop to court on this issue, the practice has declined to some extent. On the other hand, issuing challans for using polythene carry bags is a welcome step in the city. But challaning selective persons, mostly landless and marginal farmers, who bring their vegetables from far away, with high penalty of Rs 5,000 is unethical. Whereas 80 per cent of those, who use polythene bags, are left out in Apni Mandis. This will not yield any result, but encourage corruption. The Administration should ensure that violators are penalised and landless and marginal farmers do not pay high penalty as they are unable to approach the court for a waiver.
Col Balbir Singh (retd), Chandigarh
---
Provide eco-friendly carry bags
Despite consumer forum pronouncing orders for charging separately for carry bags, these have still not been accepted by various reputed retail stores in the tricity. This amounts to defiance and apathy towards directions of the forum in this regard. It is unfortunate to happen in a civilised society as the cost of packing material/carry bags is included in sale price of a product itself. Such obstinate attitude of various leading retail stores invites candid instructions from the Administration to toe the line of the consumer court or face stringent action as envisaged under the law. Traders should use environment-friendly rough paper carry bags sans any costly printing of brand message to cut business costs accordingly. Regular checking by the department concerned is needed to discourage the prevalent trade malpractice in the tricity, which is totally unjustified and absurd.
Bhupinder S Sealopal, Mohali
---
Check whether court orders are being followed
There is a need to create awareness among consumers through media and by holding awareness camps to apprise them that wholesellers/retailers can't charge/demand extra cost for providing carry bags with purchased goods. It would also be advisable that the district consumer protection council/consumers awareness group or any other authority considered appropriate be empowered to check whether the consumer court orders are being followed or not and also to decide complaints relating to the issue amicably through negotiations and out of the court settlement, because it may not be possible for every consumer, who encounters such problem, to approach the consumer court and enter into litigation.
AS Ahuja, Chandigarh
---
Victims are unaware of customer rights
In the city, retail shops and other showrooms do charge for carry bags. The cost of carry bag is Rs 2 to 3 and in malls, it costs Rs 8. Though consumer forums have ordered not to charge for bags, stores do so freely. The reason is that customers are unaware about the order passed. Even if they know they would not file a complaint against the practice because it's only a minimal amount. However, we don't think how much corruption is involved in this. The only possible way out is to lodge a complaint with the consumer forum for the injustice done to us.
Himani Chopra, Chandigarh
---
Policy to charge for bags right
Big brand retail outlets charge for carry bags, whose price is displayed at their cash counters. The policy of not providing bags and making customers pay for the same is right as it promotes environment-friendly atmosphere and reduces use of plastic in routine life. But the Consumer Act doesn't allow to charge separately for carry bags. Most shopkeepers spend on packaging material to deliver goods at customers door step. The use of plastic is banned and other substitutes cannot bear the weight of goods purchased. Papers bags are suitable for garments and other light weight products. The only option for carrying groceries is that a consumer can bring his/her own bag from home.
Sukhpal Singh, Chandigarh
---
Don't make consumers pay for carry bags
Generally shops do not charge for carry bags, but retail outlets like of companies in the tricity make customers pay for bags. Moreover, being most convenient, reliable and economical, polythene carry bags are still used in markets. Usage of polythene carry bags may not be harmful if disposed of properly. Anyway, like undesired exorbitant GST, carry bag charges should not be debited to innocent consumers' accounts.
MPS Chadha, Mohali
---
Carry your own bag while going out for shopping
For sure, the practice of charging for carry bags by retail stores goes on with impunity in the tri-city. Forget about small retailers, even big ones running their shops from malls are also openly flouting the rules. Customers, who visit these shops, are left with no choice, but to pay the amount demanded. It may be a small amount, but it is against law to charge customers for carry bags. To end this practice, the first and the foremost duty is of the customer. Next time, when you go for shopping, don't forget to carry your own bag. It seems to be the simplest and easiest way to curb this wrong practice. If due to some reason you are without a bag and the retailer is charging you for the carry bag, show him the ruling on your mobile and be firm in not to pay for it. If he does not relent, tell him to add price of the carry bag in your bill. First, I think he won't add charges in the bill and if he does so, lodge a complaint against the retailer with the consumer forum along with a copy of the bill as evidence. All these measures will surely help in curbing this wrong practice.
Bir Devinder Singh Bedi, Chandigarh
---
Impose heavy penalty on shop owners
At the entry point of all retail stores, a notice board must be displayed by owners to inform customers that they do not charge extra for carry bags. If caught flouting the norm, heavy penalty must be imposed on the retail shop owner. This is the only solution to end the practice. I think a majority of retail shops do not charge extra for carry bags. It has also been observed that shopkeepers, who do not provide carry bags, insist on customers bringing their own bags.
Tarlok Singh, Mani Majra
---
Arrest those who flout norms
Shopkeepers or other consumer stores, who charge for carry bags should be arrested and sent to jail as it is an illegal practice. People should complain against those indulging in such illegal act. In the recent past, a consumer forum in Chandigarh had held a store in Elante Mall guilty of charging for the carry bag. The government should issue timely advertisements in newspapers in this regard to make consumers aware of their rights.
RK Kapoor, Chandigarh
---
Traders must do their bit to save environment
Legislation alone without active participation of citizens cannot accomplish any objective. Shopkeepers charge for paper carry bags as these cost more than thin and environmentally hazardous polythene bags. Shopkeepers need to understand that while their profit margin may be affected by not charging for carry bags, but as responsible members of society, they must do their bit for the environment, as we all are part of the planet's ecosystem.
MP Singh, Chandigarh
---
Levying penalty is only way out
Despite several attempts and orders to curb the practice of charging customers for carry bags, retail stores continue to do so with impunity. Levying penalty on such retail stores is the only way out. As per orders of Chandigarh Consumer Forum, on April 15, 2019, Bata was fined Rs 9,000 for charging Rs 3 from a customer for a paper bag. Steps like these are quintessential in checking retail stores from harassing and charging customers for carry bags.
Ravleen Kaur Kohli, Mohali
---
Gullible customers taken for a ride
It's totally unfair and unjustified on the part of retail stores to charge customers for carry bags to take away goods purchased from them. Recently, the District Consumer Disputes Redressal Forum in Chandigarh had imposed a penalty of Rs 13,000 on a leading retail store for charging Rs 5 from a consumer for giving a paper carry bag to carry items bought from the store. The forum pointed out that the store could not make an excuse that plastic bags were banned so they charged for paper carry bags from consumers shopping at their store. Many similar cases have come to limelight recently. Charging for each paper carry bag is nothing but high-handedness on part of retail chain stores. Carry bags for which consumers pay extra have printed advertisements of the store on both sides. Gullible consumers are certainly taken for a ride by stores for advertising their name. This practice certainly amounts to deficiency in service and indulgence in unfair trade practice. The government must instruct stores to provide free carry bags to all customers. Stores must refund the amount wrongly charged for carry bags to customers.
Sanjay Chopra, Mohali
---
Give cloth bags which can be reused
Most big stores charge for carry bags from customers in the tricity. We should not forget that polybags (polythene) are banned, but are still in use. A few shops and stores give biodegradable polybags or special paper/jute/card bags, which cost between Rs 5 to Rs 20. It is reasonable to pay for such bags. While purchasing items, even packed, we ask for additional polybags and then put these 10 to 20 items into a large bag. On reaching home, these are emptied and thrown into garbage bin, which generates huge quantity of waste. Shops and stores should keep quality paper or cloth bags, which can be used and reused several times. It will keep the environment clean and kill the habit of using polythene bags.
JS Jassal, Patiala
---
QUESTION
In the 2014 parliamentary poll, 73.71 per cent voters turned out to exercise their right to franchise in Chandigarh, which was the highest ever for the city. However, compared to some other states and UTs it is still much lower. Do you think despite being among the top in literacy in the country, people of Chandigarh are a bit casual when it comes to casting their vote?
Suggestions in not more than 70 words can be sent to openhouse@tribunemail.com