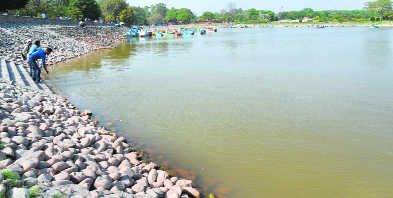 Ramkrishan Upadhyay
Tribune News Service
Chandigarh, March 20
The water level of Sukhna Lake has decreased by approximately 4.5 ft in the last five months. The water level was recorded at 1,161. 90 ft on September 31 last year. It fell to 1,157.35 ft on Tuesday.
Experts say that the rate with which the water level is receding at Sukhna is a cause for concern as the mercury has just started going up. They add that the water level of the lake is reducing by approximately 0.5 ft daily, which does not augur well.
They say if evaporation of Sukhna waters continues at this rate, the situation will turn worse in the next two months when the temperature will be at its peak.
A report of the National Institute of Hydrology (NIH), Roorkee, has mentioned that evaporation was one of the major reasons for the loss of water in the lake.
Though fall in water level at Sukhna is a problem every summer, it is for the first time in several years that it has dipped so much early this summer.
The water-holding capacity of the lake has also reduced drastically, by almost 66 per cent, due to sand deposits.
GS Dhillon, former chief engineer-cum-director, Irrigation and Power Research Institute, Amritsar, said adequate steps should be taken for bringing all rainwater in the catchment area into the lake.
The low water level has been a cause for concern for the Administration as the issue is the under the Punjab and Haryana High Court scanner.