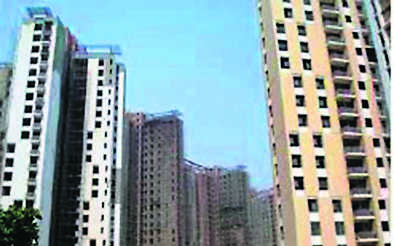 Rahul singh
When you drive out from Delhi towards Chandigarh, as I do many times, you see an almost uninterrupted series of multi-storey housing colonies. In many of them construction has stopped and they lie empty. Evidently, either the builder has run out of funds to complete the flats or he cannot find buyers or tenants for them. In Mumbai, too, tens of thousands of flats and tenements lie unoccupied. I have a news clipping in front of me which reveals Mumbai has the highest number of vacant homes, almost 5,00,000, followed by the National Capital Region and Bengaluru with 3,00,000 empty homes each. According to the national census, vacant houses comprise about 12 per cent of the total urban housing stock, amounting to 11 million houses in 2011, an increase of 71 per cent since 2001.
A colossal national waste, which also deprives millions from getting a roof over their heads. Roti, kapda aur makaan are considered absolutely fundamental to civilised living. We have failed most lamentably with the third — makaan. The Modi government has set an ambitious but unrealistic target of housing for all by 2022. That is just three years away. Impossible!
Why are there so many empty and half-finished residences in the country, especially in towns and cities? I would argue it is mainly because of our archaic tenancy and property laws, and the absurdly excessive time it takes to settle disputes relating to these laws in our courts. Simply put, landlords are scared of renting out their properties, except perhaps to multi-national companies, because they fear they might not get them back. Indian tenants often go back on their word, or disregard the agreement, forcing the landlord to go in for a usually long drawn-out court case.
Let me give you a personal example. I had a flat in Delhi but since I was then working in Mumbai, it was lying empty. A smooth-talking manager of a Delhi five-star hotel befriended my late father, Khushwant Singh, and sweet-talked him into letting him stay in it. My naïve father allowed him in on the verbal promise that he would leave when I needed it. When that time came, he told my father to go to hell! This fellow (I should really call him a scoundrel) then lost his job and went to Dubai, yet he was wily enough to keep his servants in the flat. When my father tried to repossess the flat, they beat him up. Shaken, he then asked his close friend, Soli Sorabjee, an eminent lawyer, for advice. "Take him to court immediately", counselled Sorabjee. Which my father did, but it took over 20 years for me to get the place back, even though the occupier was nothing but an illegal squatter. I am sure there are many, many others who have been faced with similar predicament, and whose cases clog up the courts.
In Mumbai, I also know of several cases where the landlord has been a person of modest means, who has put his life's savings into buying a flat, and rented it to a big company because he has been posted out of the city. When he wanted the flat back, the much richer "tenant" refused to move, claiming protection from the tenancy laws.
Part of the problem is that the Indian courts have tended to be partial to tenants. The tenants' lobby is also more powerful than that of the landlords. The late MP from Mumbai, Murli Deora, consistently championed the cause of tenants against landlords for the simple reason that the former got him more votes than the latter! There is also another side of the picture, at least in the metropolises: Tenants have been living for decades at ridiculously low rents, fixed decades ago. I know of flats in Mumbai that would fetch a monthly market rent of Rs 1 lakh to Rs 2 lakh, but the tenant pays just a few hundred rupees. In such instances, how can the landlord be expected to maintain, or even repair, a building for which he gets such a meagre rent? No wonder, so many of Mumbai's buildings are in such a dilapidated condition and that there are so many collapses during the monsoon.
Clearly, landlords of such buildings should get more rent. How much more is the big question? Landlords should also allow tenants to buy such flats. But again, price is the main factor. It has been suggested that a tenant paying old rents should be allowed to buy the flat for 100 times the rent he is paying. However, some of these tenants have already paid the pernicious "pagri" — in "black", needless to say — to become tenants in the first place, which makes it even more complicated.
One of the better ministers in the Modi government, Hardeep Singh Puri, a former diplomat, as Minister of Housing and Urban Affairs, has the onerous task of tackling these problems. A Model Tenancy Act 2019 has been drafted. Among the issues it will address is: How much security deposit can a landlord ask for, and by how much can a landlord increase the rent? But to me, at least, the most important clause should be one of iron-clad measures to ensure that a tenant vacates a premises, and that too, quickly, after the lease agreement is over. At present, the rules favour the tenant. They should be more even-handed. In most civilised countries, if you have property, you can rent it out and get it back without any problem. Why not in India? But even if the Model Tenancy Act goes through, to the satisfaction of our legislators, will various states also implement and abide by it?
— The writer is a veteran journalist