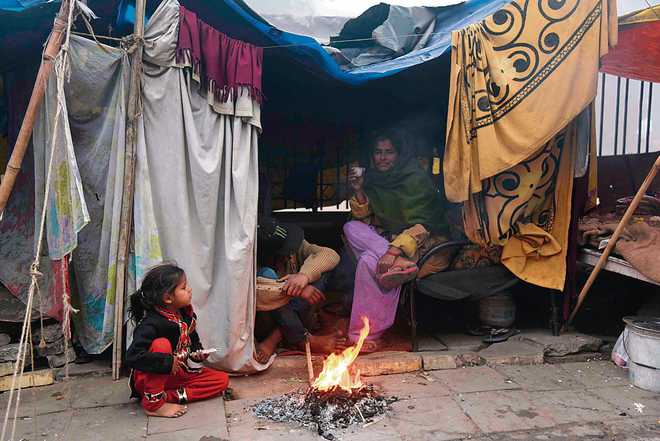 Suresh Kumar
Chief principal secretary to Punjab CM
Social subalterns in India are a heterogeneous group of people who have been marginalised for a long time. These include the Dalits, the tribals, the deprived and distressed women, and the rural and migrant workers who are endowed with resources much less than their requirement for a minimum quality livelihood. They are the voiceless people of society and, as a result, they remain devoid of the fruits of mainstream economic growth of the country. In fact, the rise in GDP and per capita income does not
fully reflect upon their plight. But this does not mean that these people are not growing, but they remain way behind those who have access to better resources and education.
Gayatri Chakravorty Spivak, in her essay Can the subalterns speak? observes the process of subalternity as rather complex. It is an outcome of social, religious, political, economic and gender discrimination and oppression over a long time. It has been happening across all nations, though in different ways with varying intensity.
India's Constitution recognises the special requirements of the subalterns. Apart from promulgating the country as a secular socialist state for the maximum good of the largest number, it envisages special provisions and laws that include reservation for Dalits, tribals and economically weaker sections of the society, abolition of untouchability, ceiling on ownership of land, and devolution of special rights to those who live in forests and other inaccessible areas. These special provisions, coupled with the more emphatic Constitutional articles on Fundamental Rights, including the right to equality, speech, property and education, lay the sound framework and foundation for social justice. The Directive Principles of State Policy elucidate the basic requirements of the public policies that are required to protect the interests of vulnerable people.
However, India as a nation state has still not achieved a fair and just society, in which traditional systems of varnas are largely, if not fully, obliterated. In fact, these classifications are more prominent in politics than ever before.
In order to secure their votes, political parties, which are largely owned by people from the upper social stratum, have innovated to what they call as 'social engineering'. The voting at the hustings is engineered through class and caste-based affiliations and connections, with poor and voiceless people falling prey to minor temptations for their survival. The elite do speak for subalterns, but do not let them speak for themselves. They reinforce a binary relationship in which only the elite can speak for the subalterns. This deepens subalternity, further pushing the oppressed to the margins. Thus, it needs to be discouraged and demolished through the systems.
As per the Multidimensional Poverty Index (MPI), 645 million people in India (about 55 per cent of the population) are poor — almost twice as many as the official poverty figures. Poverty levels are the highest among India's tribal population (81.4 per cent), followed by Dalits (65.8 per cent) and Other Backward Classes (58.3 per cent). The poverty level among the rest of the population is 33.3 per cent. Inequity in growth and justice bias is thus obvious.
As per the World Bank (2018), the proportion of women in the country's labour force is 21.9 per cent, clearly indicating gender inequity in growth. Unemployment is also higher in other social subalterns. In many parts of the country, even wages are determined on the basis of caste, class and gender.
Seven decades of a written and well-documented Constitution — that premises all laws of the country, whether national or provincial, on social equity and equality and provides for special safeguards for the deprived and distressed people — have not been enough to achieve this basic requirement of human civilisation.
Are we moving fast enough in the direction that leads us to achieve the goal of a fair, just and classless society? Different schools of thought will have a different response. The existentialists will disagree while the capitalists may affirm, though even they may not be able to fully confirm. The utilitarians and socialists will certainly raise questions on the pace at which growth with social justice and equity is being achieved or targeted. The recent religious division in political endeavours on growth in the country has, in fact, started undermining the equity in growth achieved so far.
True, the task is too big and complex. However, conceding more space and allowing more say to the social subalterns in decision making can hasten its achievement. The constitutional safeguards, such as caste-based reservations and other special provisions have achieved a part of the purpose, but these have also caused further sub-stratification amongst the poor and deprived.
A neo-rich class called the creamy layer, that is the elite subalterns, has emerged amongst these reserved categories over the last few decades, and they do not let their subalterns to rise further, realising that they may challenge their hegemony. In this way, the space conceded to the voiceless has further shrunk and the subalterns amongst the hitherto socially ostracised but now stratified through special constitutional protections, have least say in the decision making, even in policies that directly impinge upon their growth and welfare. The miseries of these most vulnerable subalterns have actually not been mitigated or reduced despite constitutional reservations and other protective clauses.
A quick survey of 60 recognised political parties in the country as per the report of the Election Commission of India reveals that no national party except the Bahujan Samaj Party and CPI has a Dalit as its president. Only four political parties have women as their president. Most regional parties are driven by agenda dictated by narrow parochial, caste, class or religion-based ideologies. These parties attach less value to ethics than politics. They raise the bogey of social justice for political dividends.
Further, representation of women in the Lok Sabha is 14.3 per cent. Repeated efforts of the government to enact the National Women Reservation Bill 2008 to provide for 33 per cent reservation of seats for women in the Parliament and state legislative assemblies have failed, largely because of the gender bias of regional political parties.
Upper caste people apprehend that the rise of socially deprived classes will cause unrest in society, whereas there should be more peace and amity, if the society is more egalitarian and less stratified. They inflict epistemic injuries to the so-called lower class people. Though the Constitution abolished untouchability — religious, social or communal — economic untouchability and financial exclusion remain widespread.
Quicker inclusive growth of hitherto excluded populations with a time-bound implementation of statutory safeguards to check and prevent social ostracisation of the poor would provide a solution for social justice if subalterns in the social stratum were allowed to speak and were, of course, heard in making the decisions that articulate and impact their future. They should be given the choice to innovate and grow even if it means to move away from the beaten path of reservations and preferential treatment. They should be allowed to deconstruct what is otherwise believed to be the gospel truth and construct their own brief for the future that may bestow upon them. A provision of a citizens' Bill in the legislative process, as in the US, if included in the Constitution of India, may allow some space to the subalterns to speak.
Spivak advocates education as a key enabler, though the process can be much faster with comprehensive reforms, including socio-economic, political and legal reforms, focused on growth with equity and equality.