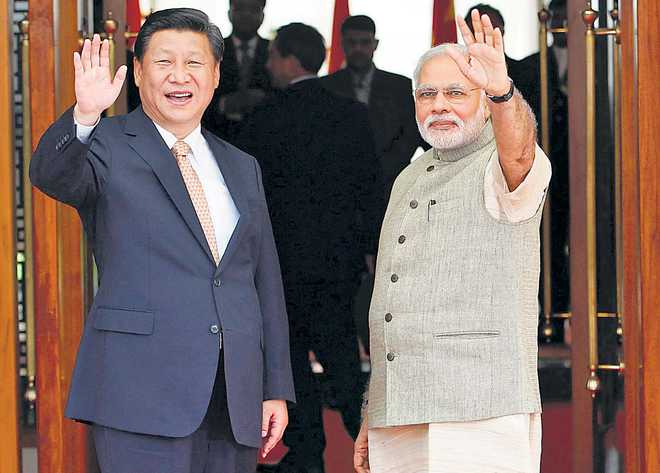 MK Bhadrakumar
INDIA and China have been talking past each other regarding the Belt and Road Initiative (BRI), but in a refreshing departure, made "eye contact" last week. In an interview with Global Times newspaper, the Indian ambassador to China, Gautam Bambawale, suggested that the two countries "need to talk about" the China-Pakistan Economic Corridor, "not push it under the carpet"; for, "the more we talk to each other, the easier it will become to resolve problems". Ambassador Bambawale is a seasoned "China hand" and the Chinese foreign ministry spokesperson, Hua Chunying, seized the moment, responding, "China stands ready to remain in dialogue and communication with India… and seek a solution acceptable to the two sides." Are we hearing the crunchy sound of ice breaking on the frozen lake?
China's thinking apropos the BRI is dynamic. British PM Theresa May's three-day visit to China last week testifies to it. With an eye on post-Brexit, Britain is eager to expand economic relations with China. Yet, Britain, like India, has held back from giving formal endorsement to the BRI. However, Britain signed an agreement to contribute $50 million to the project preparation special fund of the Asian Infrastructure Investment Bank (AIIB) and pledged up to an equivalent of $35.61 billion in financial support for companies participating in the BRI projects in Asia. One concrete outcome of May's visit has been the $1.6 billion deal between China Development Bank and Standard Chartered Bank to facilitate projects in the finance and professional services sector under the BRI.
The China-UK CEO Council has been established as a platform for private companies of the two countries to cooperate. The forum held its first session in Beijing on Thursday, co-chaired by May and Chinese Premier Li Keqiang. While receiving May in Beijing, President Xi Jinping underscored that the BRI will be a "public, transparent, open, inclusive and mutually beneficial initiative, operated under market rules and international rules in the principle of wide consultation, joint contribution and shared benefits". He proposed that "China and Britain can carry out broader and more in-depth cooperation of higher standard within the framework of the BRI".
According to 10 Downing Street, Xi quoted Shakespeare, stating, "What's past is prologue". May and Xi agreed that Britain and China would hold "further discussions on how best they can cooperate on the Belt and Road Initiative, which offers significant opportunities to deliver further prosperity and sustainable development across Asia and the wider world". In public remarks in Beijing, May said, "the UK is a natural partner for the Belt and Road Initiative with our unrivalled expertise. And as I've discussed with Premier Li, we've discussed how the UK and China can continue to work together to identify how best we can cooperate on the Belt and Road Initiative across the region."
China is adopting a similar pragmatic approach towards Japan too. Japan has not yet joined the AIIB, but Japan-led ADB is actively cooperating with it. Japan is also signalling its willingness to take part in the BRI. Once again, Japanese enterprises are taking the lead. In his annual policy speech in the Japanese Diet last Monday, PM Shinzo Abe specifically referred to cooperation with China in the infrastructure projects in Asia. According to Chinese media, Nippon Yusen, one of the largest shipping companies in the world, may tie up with Chinese companies in the operation of Hambantota Port in Sri Lanka.
Again, similar factors are at work in Singapore's drive to conclude a Free Trade Agreement with Sri Lanka last week in record time of 18 months. En route to Delhi to attend the ASEAN Commemorative Summit on January 25, PM Lee Hsien Loong visited Sri Lanka where he announced that "there are major investments which are being planned". Moody's Investors Service estimates that the FTA will boost Sri Lanka's services receipts in tourism sector, IT, real estate, infrastructure, logistics, education, healthcare and so on, by protecting against expropriation, improving transparency and providing for a dispute resolution mechanism. Evidently, Singapore is positioning itself to tap into China's BRI projects such as the $1.5 billion Colombo Port City project (built on the sea reclamation of 269 acres, which is expected to be completed by mid-2019 as part of Colombo International Financial Centre). Lee is on record that Singapore aspires to be a "hub" for the BRI in Southeast Asia. And Singapore visualises Sri Lanka as a "hub" for South Asia in line with Colombo's Vision 2025, which aims to position the nation as an export-oriented economic hub at the centre of the Indian Ocean. Singapore enjoys a good brand name in Sri Lanka and there is far less red tape there compared to the rest of South Asia.
Suffice to say, like Britain, Japan or Singapore, India also can be a "natural partner" in the BRI. India has massive needs of infrastructure development and has a well-developed private sector, while China is the world's leader in infrastructure projects. Once the construction of massive infrastructure projects starts in our country, the economy as a whole will get a major boost. And India's large demographic dividend can be turned into a strategic asset. (It was a major contributing factor for China's extraordinary economic success.) The aggressive reform measures such as demonetisation, GST and relaxed rules for FDI have so far failed to stimulate the country's demographic dividend. This is where BRI projects will be useful to release the economic potential in a short term.
Equally, Indian enterprises are experienced in operating in local conditions and are conversant with fulfilling corporate social responsibility. Such synergies mean that India and China can work very well together to create jobs on a large scale. The more private sector investment there is in the BRI, the better. Obviously, the two countries also can think up a platform like the China-UK CEO Council. We should welcome the whole idea of trying to encourage the private sector to get involved. And the more we can get entrepreneurs to take a lead in many of these projects, the better. Following Japan's footfalls, the BRI can be the platform to transform the India-China relations.
The crucial thing is to charter the future development of the relations with China from a strategic height instead of remaining stuck in narrow groves, which has been the pattern so far. A long-term approach can incrementally enhance mutual understanding, respect for each other's core interests and major concerns and enable the two countries to deal with sensitive issues in a constructive way.
The writer is a former ambassador
Top News
The accused ASI was nabbed by local people, who then handed ...
Two frontline combat aircraft of the IAF crashed during a tr...
Gandhi was accompanied by his sister and Congress general se...
PM Modi also appreciated people for eating food items made o...