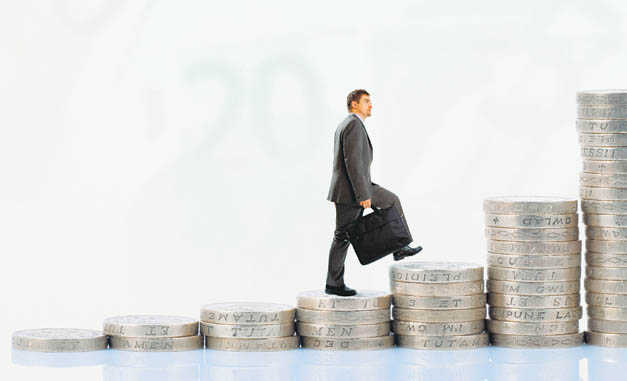 HOPEFULLY the Seventh Pay Commission salary hikes will make all government servants happy. The minimum government salary will now be Rs 18,000 and the maximum salary Rs 2.5 lakh. The maximum will be 14 times the minimum salary and there will be a huge gap between the highest and the lowest. The minimum salary will still be more than double of the minimum wage in the country.
The gap between the private and public sector salaries will, however, be narrowed, though only up to a certain level because the private sector has low salaries in the lower rungs but very high salaries at the upper levels. Even so, the incentive to be corrupt will be less for government servants once their salaries are more on a par with the private sector. As former Singapore Prime Minister Li Kuan Yew once said, he paid his government officials very high salaries so that they would not be tempted to take bribes.
Once the 47 lakh serving employees and 52 lakh pensioners are appeased by the new salary scales, there will be generated the much-needed 'demand push' for goods and services in India. But then, the government will have to also address the wellbeing of agricultural labour and farmers because they too work hard against all odds and have had to face severe weather conditions for the last two consecutive years. Due to bad monsoon, rural wages have registered an average annual growth of 3.8 per cent in recent years, the lowest since 2005. Labour Bureau data shows that the average all India daily wage rate across 23 agricultural and non-agricultural occupations was at only Rs 266.26 in November 2014. Besides the low wage rate, there is gender disparity in wages, with women getting lower wages than men in some occupations.
The government will also be pressured into giving a higher minimum support prices (MSP) for agricultural produce, as suggested by the MS Swaminathan formula, according to which, the MSP should be at least 50 per cent more than the weighted average cost of production. Already, Punjab Chief Minister Parkash Singh Badal has met Prime Minister Narendra Modi in this regard. If the MSP is raised, rural wages will also go up.
Rural demand is much more important than the demand coming from government employees, and which according to the RBI Governor, is still low. Almost half the population is engaged in agricultural occupations, though their contribution is considerably less to the GDP than industry and services at 15 per cent. The slackness in rural demand has been felt by the corporate sector which has resulted in the low capacity utilisation in industry.
The informal sector workers who are unskilled also deserve a better deal. The minimum wage has been calculated on a formula based on the food intake for a family of husband, wife and two children below 14 years, amounting to 2,700 calories a day. From July 2015, the national floor level minimum wage has been revised and set at Rs 160 a day for unskilled workers. It also includes provision for rent, clothing, education, medical expenses, recreation, festivals and ceremonies. The trade unions have demanded a minimum wage of Rs 15,000 per month. The government has declared that it is working on a law that will raise minimum wages in both formal and informal sectors. It will be benchmarked to inflation.
Another area in which the government may have to shell out more money would be in the rural employment guarantee scheme (MNREGA) in which the daily wage, though indexed to inflation, remains very low and there has been a long standing demand for increasing the wage. The government is under pressure to hike the MNREGA wage rate. There is a huge amount of arrears to be paid. Recently the government has announced that it will raise the daily wage rate also.
With the new pay scales, the government job vacancies ought to get filled. It is shocking that the Union government has 7,28,870 vacancies and a huge manpower shortage. The worst- affected ministries are finance and science and technology. Hiring temporary staff on contracts is the most favoured mode of employment by the government ministries. With 23.5 per cent salary hikes, everyone expects that the government will work more efficiently. But the hard performance criteria of the private sector are not applicable for government employees. Non-performers, according to the Seventh Pay Commission, will be phased out after 20 years, meaning that the annual increment will be stopped.
There will be pressure on the fiscal situation with an outgo of Rs 1 lakh crore towards pay hikes for government employees, especially when the target for fiscal deficit has been set at 3.5 per cent for 2016-17. If we add to it a higher MSP and minimum wage in the Central government sphere as well as a hike in MNREGA daily wage, the government's wage bill will rise. There could be inflationary pressure generated by the rise in demand.
The RBI is playing a cautious game and is bent upon controlling inflation especially the CPI. It has not reduced the interest rate from 6.75 per cent because it wants to keep inflation muted. It may want to maintain status quo for some time with a threat of inflation returning. But the problem is going to be with new investments without which the GDP growth rate will flounder and tax revenues may fall which will make all wage hikes difficult to implement.
Finance Minister Arun Jaitley has said the government pay hikes will not trigger an inflationary spiral because with oil and commodity prices down and better revenue collection, the government will be saving money and there is enough leeway for spending more on salaries. The government, however, in a last minute bid to meet the fiscal deficit may indulge in cutting capital expenditure which will be disastrous.
Last year, the Union Budget slashed health expenditure. The state of healthcare in India is most unsatisfactory, especially in maternal and infant healthcare. Compromising on healthcare and education expenditure could prove to be dangerous. The question is how to finance the hefty pay hikes when there is only nascent economic recovery and marginal increases in tax revenue.
Top News
MEA's call for avoidance of unilateral actions to change sta...
'It is my wish that all come together'
A case has been registered at Chembur police station against...