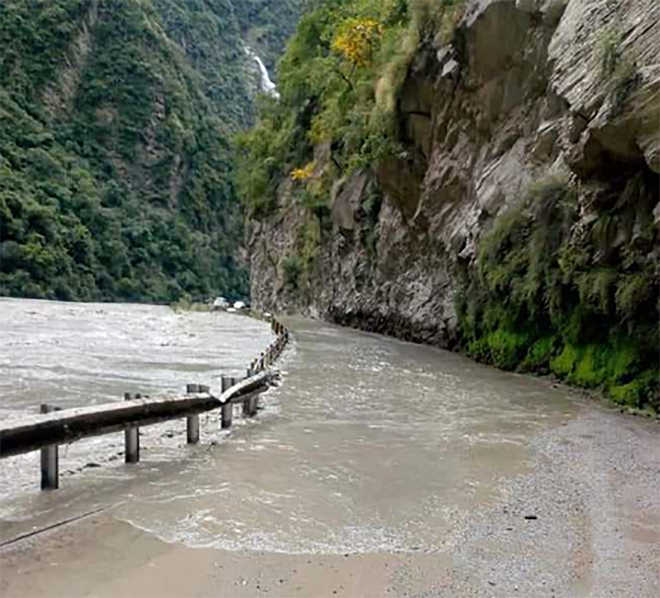 A practically continuous downpour in the region over three days has brought about a deluge of misery. Even as farmers rue the loss of crops that were ripe for harvest, rivers are now in spate, and the Chandigarh-Manali National Highway was closed because of the swollen Beas. The national highway linking Jammu and Srinagar too was closed after a landslide in Ramban district. Schools have been shut down in many areas, especially in Himachal Pradesh, and the life of the common man has been widely disrupted.
Meteorological predictions have been reasonably accurate. While it helps to know in advance about inclement weather, preparing for it is another matter. The rain has again revealed our lack of preparation and rampant illegalities. Encroachment of riverbanks has aggravated the situation in many places, and the lack of maintenance of necessary infrastructure has contributed to its collapse. Even as timely disaster management operations have saved some lives and provided relief, there is still need to look into various instances of damage to life and property and learn lessons from them.
As nature turns more and more unpredictable, as seen in various parts of the world, we need to learn from the havoc that can be created under extreme circumstances and take measures to prevent it. As a nation, we often rise to the occasion by providing relief. We, however, fail in taking preventive measures that would help in thwarting tragedies under such circumstances again. The work done by the civil administration as well as volunteers in providing relief to stranded travellers needs to be lauded. So does the rescue work by the military, especially the IAF. However, this is just the beginning. Farmers are staring at huge losses. They will need help, and the state governments must take immediate steps to provide the much-needed assistance. Himachal Pradesh may be left with huge costs of rebuilding roads and clearing landslides. In remote villages, there could even be a crisis of supplies. Attention from the Centre too may be warranted.
Top News
The network, which operated in the darknet and used cryptocu...
Railway Board has recommended for Central Bureau of Investig...
Amid pro-Khalistan sloganeering, the 39th anniversary of Ope...
Focus on ways to expand bilateral defence and strategic ties
Observers feel election campaign built around the possibilit...