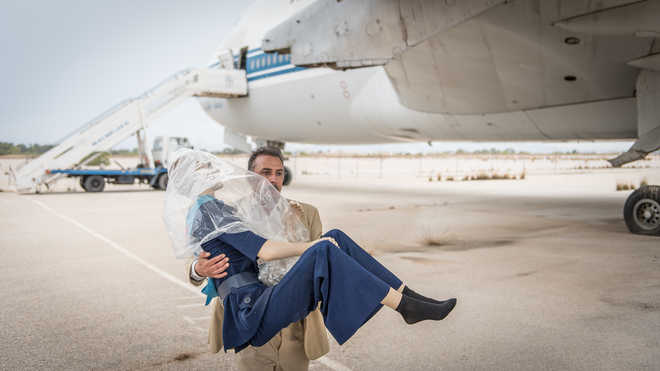 Saibal Chatterjee
The avowed purpose of the Dharamsala International Film Festival (DIFF) — "bringing independent cinema to the mountains" — assumed a whole new meaning this year. While the sixth edition of the festival (November 2 to 5) embraced unique cinematic voices from across the world, it screened two Indian films that took the concept of independence to another level altogether.
At one end of the DIFF spectrum was Turup, a narrative feature made by Bhopal-based Ektara Collective with actors drawn principally from the city's working class neighbourhoods. At the other end was the festival's closing film Village Rockstars, Assamese director Rima Das' self-funded sophomore effort.
Shot entirely in her village with amateur actors, the film tells the story of a girl who dreams of acquiring a guitar so that she can form her own band with the boys that she is friends with. Turup, set against the backdrop of Bhopal's Chakki Chouraha where chess is a round-the-clock pastime for men, tells the intertwined tales of three women from different social backgrounds dealing with a sense of isolation.
Turup, scripted by two women, FTII-trained Maheen Mirza and Chhattisgarh-based activist Rinchin, is credited to no single director. Village Rockstars, on the other, is from beginning to end, one woman's handiwork.
Nothing could have defined the go-getting spirit of DIFF better than these two remarkable films. The festival opened with Konkona Sen Sharma's A Death in the Gunj setting the stage for the unfolding of a formidable string of films helmed by women.
Organised by long-time Dharamsala residents and filmmakers Ritu Sarin and Tenzing Sonam, DIFF was launched in 2012. The festival hasn't necessarily grown in size — to its advantage, it remains a small, intimate, informal festival that fosters a culture of free, lively exchange of ideas and knowledge — its impact has increased by leaps and bounds.
DIFF offers great opportunity to the locals to sample auteur-created cinema while generating for visiting film professionals and enthusiasts a warm and fertile atmosphere, the kind that is rare these days in bigger festivals where buyers and sellers congregate to swing deals.
Several more films by women — notably Dechen Roder's 'Bhutanese noir' Honeygiver among the Dogs, Norwegian-Pakistani filmmaker Iram Haq's semi-autobiographical What Will People Say and Bornila Chatterjee's provocative Titus Andronicus adaptation The Hungry — livened up the cool environs of the festival.
Among the six feature documentaries showcased at the festival this year, three were made by women — Kirsten Johnson's Cameraperson (US), Anna Zamecka's Communion (Poland) and Tan Pin Pin's In Time to Come (Singapore).
In Cameraperson, Kirsten Johnson, one of the world's most prolific documentary cinematographers, uses footage that she shot for the likes of Michael Moore (Fahrenheit 9/11) and Laura Poitra (Citizenfour), among others, to create a mosaic of human stories, at once unsettling and illuminating.
Anna Zamecka's Communion probes the extent to which adults can go to force daunting responsibilities upon children. In the film In Time to Come, shot during the 50th anniversary of Singapore's independence, Tan Pin Pin explores the themes of memory, national myth-making and construction of alternate realities.
Among the other feature-length documentaries screened at DIFF were the Machines, Rahul Jain's stark portrait of industrial exploitation in a textile mill in Gujarat and Canadian-Pakistani director Arshad Khan's deeply personal examination of the challenges of growing up gay in a conservative Muslim family.
That apart, DIFF 2017 presented a spread of lauded Indian films that have done the international festival rounds — Shubhashish Bhutiani's Hotel Salvation, Amit V. Masurkar's Newton, Devashish Makhija's Ajji, Pushpendra Singh's Ashwathama and Karma Takapa's Ralang Road. For those looking for films from elsewhere in the world, there were Malaysia's Interchange, directed by Dain Iskander Said; London-born Bangladeshi writer, artist and filmmaker Naeem Mohaiemen's Tripoli Cancelled; Israeli director Yaniv Berman's Land of the Little People and the Japanese film Her Mother, helmed by Yoshinori Sato.
As always, DIFF lived up to its billing as one of India's most exciting film festivals, as a pristine platform for independent cinema's mavericks and experimenters.