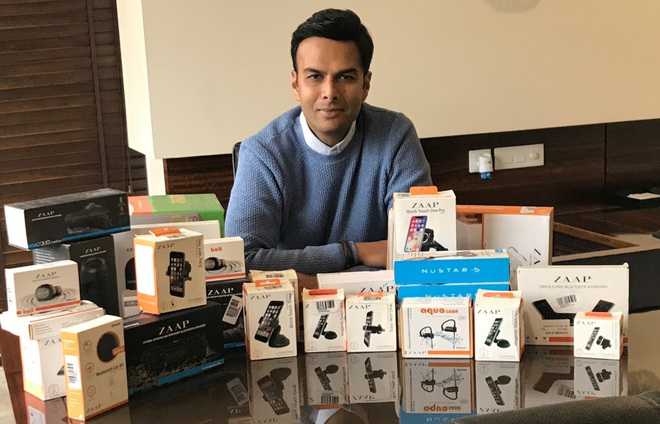 In the start-up landscape at the back of every new venture is an unresolved or a niggling problem, which the enterprising minds set out to resolve. For Gaurav Goel, the trigger was the high cost and poor quality and design of lifestyle products. And it was in 2015 that this MBA graduate from California State University, USA, set out to work on a solution to this through his venture ZAAP. Armed with over a decade of experience in the B2B & consumer products, Goel had handled roles in channel sales, solution partner development & e-commerce sector before starting on his own.
Concept
ZAAP is a premium accessories brand that disrupts the overpriced lifestyle products' industry. "We researched the Indian market to provide customised products to suit the taste of customers. We fixed the problem by circumventing traditional channels, designing in-house, and engaging with customers directly using e-commerce; by catering to the needs of the customers we were able to provide higher-quality, innovative fifestyle products at a competitive price," adds Goel.
Challenges
One of the first challenges ZAAP faced was making the customers experience the product as it was available online and lacked a personal interface with the audience. "We also had a limited marketing budget which came across as another challenge". .
Achievements
With 8+ million customers worldwide, the company is in a leading position across many product categories, including Car Mounts, Rugged Bluetooth Speakers & Premium Selfie Sticks. Last year, ZAAP clocked more than 300 per cent revenue around $3 million in India and is projecting a 300 per cent jump in sales for the next year. ZAAP products have been awarded prestigious International design awards.
Future plans
In 2019, the company is planning to diversify its portfolio in the audio category, which will include voice & internet-enabled Bluetooth speakers, soundbars, and DJ speakers. The products are currently manufactured in South Korea and China. "These are designed and engineered in our own facility in the USA, and we plan to set up a production facility in India by late 2019", says Goel.
"We are further planning to foray into car mounts with wireless charging by early 2019." — As told to Geetu Vaid