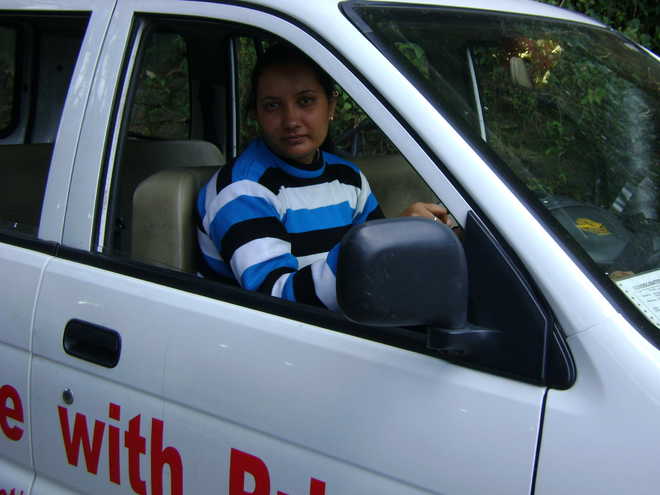 Eesha Duggal
Tribune News Service
Shimla, May 13
She has a vivid memory of sitting in her father's lap and trying her baby hands on the steering of the bus he drove. "I was three," she recollects.
Now driving her taxi through the serpentine Sanjoli-Lakkar Bazaar road, she candidly throws many gender stereotypes out of the window. Heads turn to the woman that this little girl has grown up to be. Seema Thakur is the first female HRTC driver, much to the pride and no prejudice of fellow Himachalis.
It's been a week since the 28-year-old started driving a Himachal Road Transport Corporation taxi in Shimla and there isn't a thing she'd change. To start with, she has been assigned an HRTC taxi. As she gains more experience, the authorities plan to give her a bus to drive.
"My father was an HRTC driver and he was a constant inspiration. He is no more, but his work fuelled my passion for driving. I thought it was something more challenging than what is expected of women," says Seema.
She says her male counterparts have been highly supportive and encouraging. She underwent a five-month training under two instructors, who are as proud of their dedicated student as her family.
"Seema came to us first in 2008. She couldn't make it to the training because of some reasons. In 2010, she approached us again. She was so passionate, we had to take her. She is a good driver now and I am proud of her," says Kishor Panwar, her instructor.
"My daughter has brought laurels to the state and I am very happy. She's carrying on the legacy of her father," says Rewati Thakur, Seema's mother.
Amid a conventional notion that portrays driving skills of women in poor light, Seema has made a seismic shift by earning the faith of her regular passengers. "I feel safe sitting in the back of Seema's taxi, without considering what perceptions people harbour about women drivers," says Pariksha, a daily commuter.
Seema echoes the sentiments. "It's a wrong perception. I am responsible for the safety of my passengers and I am professionally trained to ensure it," she says.
Driving on the sinuous hill roads is a test of nerves and a bus breakdown at odd hours can make even a grown man edgy. "The HRTC has warned the drivers against fixing of the buses. There are mechanics for the purpose. Changing the tyres or fixing the faults in a bus is a risky task and we have been directed to refrain from it," says Seema. Even though Seema has set the wheels in motion, being the first woman HRTC driver has put the onus of her safety on the authorities.
"The HRTC never had a gender bar. We were always open to women drivers, but nobody came forward. Seema is the first woman who showed willingness to join the job. She has undergone professional training and we have faith in her skills. We hope her feat will motivate more women to take up this work," says DS Negi, Regional Manager (Shimla), HRTC. He also says the authorities would ensure she was safe at all times; and for that, Seema has been assigned a taxi for now.
Woman trainee bus conductor too makes marK
While Seema Thakur has led the way for aspiring female drivers, Leena Sharma has made a mark by becoming the first HRTC woman trainee conductor. She's been on the job on the bus stand-Chakkar route for a month and a half. "It's comfortable work. I like it. If the HRTC inducts me after the two-month training, I'd like to go on with it," says 42-year-old Leena. A mother of two, Leena has been associated with the Janwadi Mahila Samiti for many years and intends to join it again if she is not taken in as a regular employee in the HRTC. Though Leena has grown fond of the job, she says it is awkward to find men
leering at her in the bus. "It is hard to comprehend if they appreciate the idea of having a woman conductor or it's a gender prejudice. I can't say anything to them or they'd complain against me. This, for me, is the biggest challenge," says Leena.