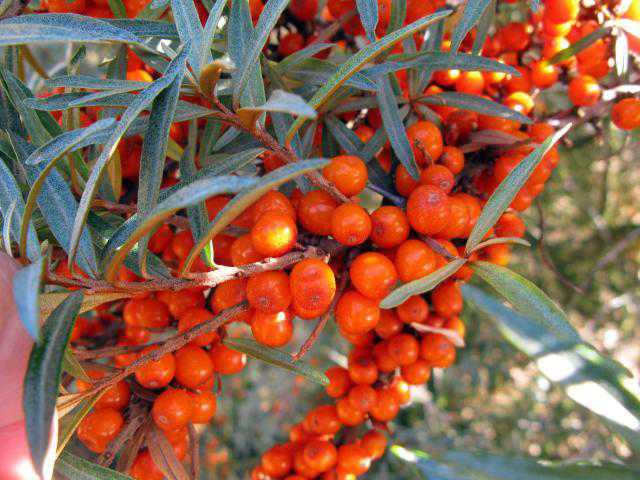 Bhanu P Lohumi
Tribune News Service
Shimla, May 5
Sea buckthorn, a wonder plant of cold deserts of Lahaul and Spiti and Kinnaur, is all set to go for major economic transformation with market demand for the plant and its products growing phenomenally.
Patanjali Ayurved, a Rs 5,000 crore herbal and health food company based in Haridwar, has decided to make big investment in the sea buckthorn business, which is likely to benefit thousands of farmers in tribal areas of Himachal, Uttarakhand and Ladakh. The company is likely to produce India's first multi-vitamin sea buckthorn juice, omega rich oil capsule and tea for consumer which improves immunity in human beings.
Farmer societies in Lahaul and Ladakh have received the demand of 2,600 tonnes of sea buckthorn dried leaves from the company and these products are expected to be supplied to the Army as the studies conducted by the Defence Institute of Physiology and Allied Sciences (DIPAS) revealed that sea buckthorn health products help in the adaptation of the Army in high-altitude areas, said president of Lahaul-Spiti Sea buckthorn Cooperative Society BD Parshera.
Farmers are selling sea buckthorn leaves on small scale at the rate of Rs 200 per kg and the company will get major supplies of sea buckthorn fruit and leaves from Ladakh but farmers of the tribal belt of Himachal would also benefit from this huge market demand, Parsheera said.
Farmers of Lahaul-Spiti may not be able to supply more than 100 tonnes but they are gearing up for massive plantation of sea buckthorn in over 1,000 hectares in Lahaul-Spiti, Kinnaur, Pangi and Bharmour in 10 years, which can produce about 4,000 tonnes of dried leaves, fetching farmers over Rs 40 crore annually, provided the government extended support to the growers, he claimed.
Prof Virendra Singh of CSK Agriculture University, Palampur, who has already trained over 1,000 farmers in the sea buckthorn cultivation, said "There is a need for massive cultivation of sea buckthorn by the Forest Department and farmers and supply raw material on the sustainable basis to combat climate change and conservation of soil, water and biodiversity in this environmentally fragile region of the state".
Farmers want the state government to help them carrying out massive plantation through schemes like Chilgoza and MGNREGA and also provide facilities of irrigation and fencing to sea buckthorn plantations for the higher survival rate and better growth on marginal lands.
About 2-lakh plan saplings were planted under the project and survival rate was 52 per cent, said Prof Varinder.
Another company, Chandigarh Agritech is establishing a processing unit with government support in Baddi to start super critical Co2 extraction unit for oil of sea buckthorn. Patanjali Ayurveda has already placed an order of 500 tonnes of sea buckthorn fruits to farmers of Ladakh while another company, Synthetise based in Cochin, has also approached Leh farmers to supply 300 tonnes of sea buckthorn fruit for oil extraction.
Medicinal herb
Sea buckthorn is a herb. Its leaves, flowers, and fruits are used to for treating arthritis, gastrointestinal ulcers, gout, and skin rashes caused by infectious diseases
A tea containing sea buckthorn leaves is used as a source of vitamins, antioxidants, protein building blocks (amino acids), fatty acids and minerals for improving blood pressure and lowering cholesterol; thus preventing and controlling blood vessel diseases and boosting immunity
Sea buckthorn berries are used for preventing infections, improving sight, and slowing the aging process
The seed or berry oil is used as an expectorant for loosening phlegm; for treating asthma, heart disorders, including chest pain (angina) and high cholesterol; for preventing blood vessel disease; and as an antioxidant
Top News
Harried passengers take to social media to vent their ire at...
Lapid had stirred a massive controversy by terming Vivek Agn...
Final turnout to be higher as voting process continued at po...
DigiYatra will provide seamless entry and embarkation proces...
His song 'Mahakaal' removed from YouTube after 19 hours