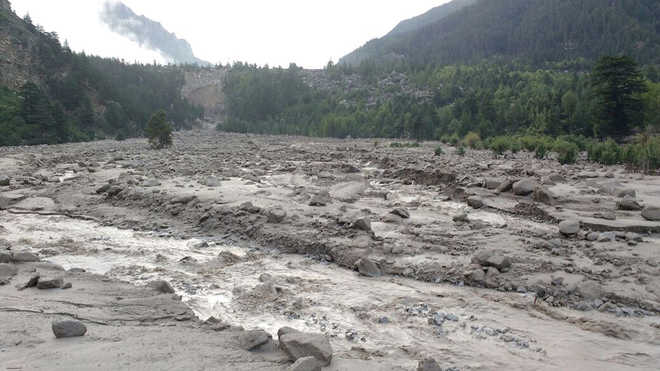 Bhanu P Lohumi
Tribune News Service
Shimla, July 18
Extensive damage was caused to orchards and houses following flash floods triggered by a cloudburst at the Kharogala Nullah near Batseri in the Sangla valley of Kinnaur district last night.
The flooded nullah damaged the apple orchards of about 50 villagers and half a dozen houses.
The losses ran into crores, said sources.
No loss of life was reported. An elderly couple, however, had a harrowing time as rescue teams could reach them only in the morning.
The couple, identified as Sonam Chhepal and Borangachho, remained stuck on a cliff through the night. Clinging to a tree, they kept sending signals through a torch light to officials.
The rescuers reached them at 6 am today, said Sub-Divisional Magistrate (SDM) Kalpa Arvind Sharma, adding that the Sangla helipad had also suffered damage.
The local administration has sounded an alert asking the authorities to shut down hydropower projects in case of emergency. The flash floods increased the silt level in the Sutlej, damaging two bridges and leading to the closure of the Chitkul link road."The water level has risen and locals have been advised to stay away from the river banks," said Nishant Thakur, Sub-Divisional Magistrate, Rampur.
Meanwhile, heavy rain lashed parts of Sirmaur, Mandi, Solan, Shimla and Una districts. Paonta Sahib received 104 mm rain while Jogindernagar, Berthin and Dharampur recorded 43 mm, 39 mm and 38 mm rain followed by Kasauli and Sundernagar 35 mm. Una recorded 30 mm, Mehre 29 mm, Mashobra 28 mm, Sarkaghat 26 mm, Dharamsala 24 mm, Jubbal 22 mm, Nagrota Suriyan 20 mm, Shimla 18.5 mm and Solan 17 mm.
The minimum temperature dropped by a few notches at Keylong, Kalpa and Manali. Shimla and Dharamsala recorded 15.8 degrees C, Palampur 18 degrees C, Solan and Bhuntar 20.0 degrees C, Sundernagar 21.8 degrees C and Una 25.0 degrees C. There was no significant change in the maximum temperature. The Met Department has predicted rain/thundershowers at a few places in the lower, mid and higher hills over the next six days.