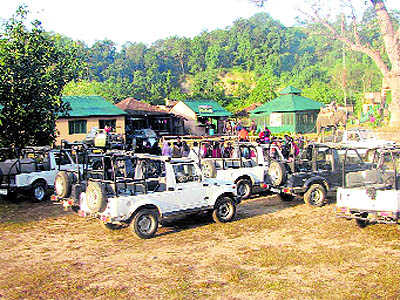 Jotirmay Thapliyal
Tribune News Service
Dehradun, April 2
The authorities at the Jim Corbett Tiger Reserve have made it mandatory for visitors staying at the park to take back along with them non-biodegradable waste.
Though plastic ban was imposed in 2013, there has been little or no compliance. It is mandatory for visitors staying at the park to carry a litter bag for putting waste material such as plastic bottles, metal foils, tin, etc. Visitors have to take the bag along with them while exiting the park.
Speaking to The Tribune, Surendra Mehra, Director, Jim Corbett Tiger Reserve, said, "We are making the entire system foolproof so that non-biodegradable waste is not left inside the reserve. Visitors will be allowed to check out when they carry the waste bag along." The park has several rest houses in various tourist zones such as Dikala, Bijrani and others.
He said visitors found violating the provision would be penalised under the Wildlife Protection Act. The park authorities had taken a slew of measures to check pollution, including designating places for visitors to eat and rest.
Hem Singh Gehlot, a visitor, welcomed the move and said it was important to keep the park neat and clean. "The reserve has the highest density of tigers in the world. Tourism should not be allowed to pollute the natural environs," he said.