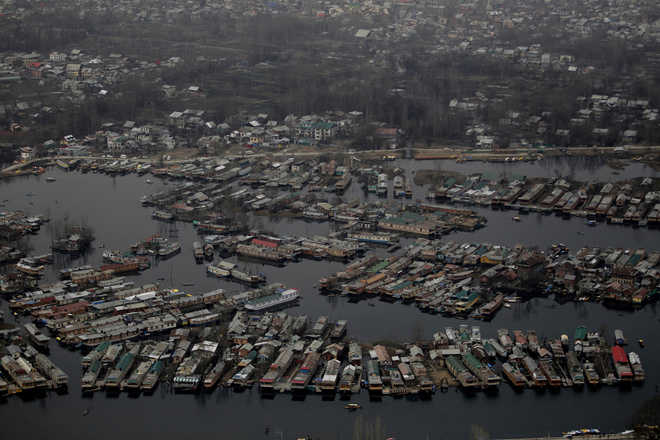 Ishfaq Tantry
Tribune News Service
Srinagar, February 25
Taking a strong note of the "lack of sensitivity" on part of the authorities, the Jammu and Kashmir High Court today said the world famous Dal Lake, which is shrinking and dying, will be non-existent in the near future if immediate steps for its preservation are not taken.
"From 2002, this court has made earnest and vigorous efforts to ensure preservation of the world famous Dal Lake. Because of the lack of sensitivity on part of some of the authorities the desired results have not been achieved till date," a division bench of the High Court, comprising Justice Muzaffar Hussain Attar and Justice Ali Mohammad Magrey, observed in its orders.
"If the things go on in the same fashion, then Dal Lake, which is shrinking and dying, will be non-existent in near future. God has been kind to us to create a place on earth called Kashmir. It is like a heaven on earth. The insatiable human greed, however, is turning it into a hell," the court observed.
The court granted Advocate General DC Raina, who was present during the hearing, four weeks time to report on steps being taken and required to be taken in future for preserving the Dal Lake.
"We request Advocate General to take serious measures on the issue and come up with concrete and practicable suggestions," the bench observed.
Emphasising the seriousness of the issue with regard to flow of pollutants into the Dal, the High Court directed the respondents to take immediate remedial measures and also threatened closure of Hotel Centaur and Hotel Grand Palace if they did not take remedial measures.
"Because of the seriousness of the issue involved in respect of the pollutants, which flow directly into the Dal Lake, we direct the respondents to take immediate remedial measures in this behalf," the bench said while taking note of the compliance report filed by the Pollution Control Board (PCB).
"All the stake holders, who are mentioned in the compliance report, which includes Hotel Centaur, Hotel Grand Palace and SKIMS, Soura, should take immediate remedial steps and file compliance report," the court ordered.
"In case remedial steps are not taken, then the court will be constrained to initiate action which may also result in shutting down all these hotels," it added.
In its order on January 16, the High Court had directed the PCB to analyse the discharge from the Sher-e-Kashmir Institute of Medical Sciences (SKIMS), Soura, Hotel Centaur Lake View, SKICC and Hotel Grand Palace to determine the performance level of the sewage treatment plants set up by these facilities.
Top News
The nasal vaccine—BBV154 -- had received DCGI approval in No...
Egypt's President Abdel Fattah al-Sisi is the chief guest at...
Announcement was made by Adviser to the UT Administrator Dha...
It reflects the 'myopic' mindset of those in power at the Ce...
In the last year, more than 70,000 people globally have been...