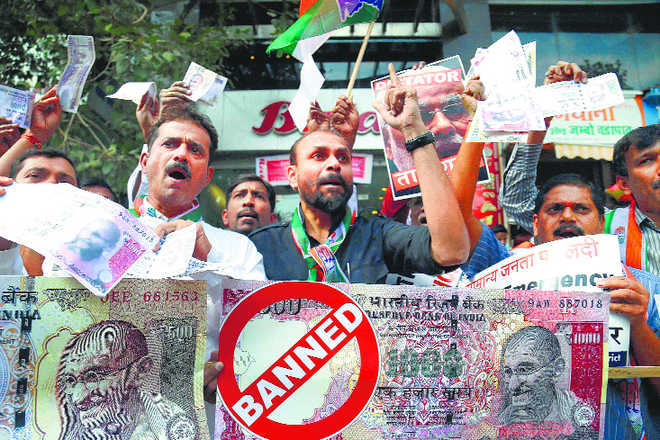 C. Rammanohar Reddy
"The 500 rupee and 1,000 rupee notes hoarded by anti-national and anti-social elements will become just worthless pieces of paper," said Prime Minister Narendra Modi on November 8, 2016. A year later, Finance Minister Arun Jailtey said: "Confiscation of black money was never the aim of demonetisation."
Shifting objectives, contradictions and false promises have been the hallmarks of demonetisation. It was one of the most ill-conceived economic policy decisions that sucked out 86% of the currency in circulation.
A year later we are still counting the costs while the promised benefits are illusory. Let us count the many outcomes.
One, it is described as "the world's biggest legal money laundering scheme" with the Reserve Bank of India (RBI) reporting in August this year that 99 per cent of the demonetised currency had been deposited in the banks by December 30, 2016. Those with black money have beaten the system and legalised their illegal funds. We are now told that notices have been sent to those who have made large deposits and illegal cash will thus be unearthed. We are yet to see any sign of that; what we do see is the Income Tax Department armed with additional powers and threatening an era of tax terrorism.
Two, we were told that demonetisation would smoke out counterfeit currency. The RBI numbers show that a piffling Rs 19 crore of the Rs 15.28 lakh crore notes surrendered, were fake. This proves that the circulation of fake notes was not a major problem. It was made into an objective only because it had a political appeal.
Three, combating terror financing was also portrayed as an objective for its political appeal. In the era of terrorists driving trucks to cause mayhem, demonetisation or no demonetisation makes little difference. It is embarrassing to hear FM Jaitley even now recycling the WhatsApp meme that demonetisation ended stone pelting in the Kashmir Valley. If only the anger in the Valley could have been ended so easily.
Four, when it was clear that the initial objectives would not to be met, "digitalisation" emerged as a new aim. Digitalisation has been an ongoing process, growing for over a decade. Did it need the hammer of demonetisation to increase the pace? And what about those with neither cards nor smart phones? As it turns out, while digitalisation did shoot up last December-January because people had no choice, the growth subsequently slowed. As cash returned to the economy, people showed that they were in no hurry to embrace the digital culture.
Five, an aim that was later put out was to reduce cash in the economy. Indeed, the cash-GDP ratio today is lower than the 11-12 per cent it has been for more than a decade. But, is less cash a good thing in itself? Many advanced economies like Japan and Switzerland have a higher cash-GDP ratio than India.
A fundamental false premise of demonetisation was that most of black money is held in cash. On contrary, most of black money is invested in various assets.
By any yardstick 'Demonetisation 2016' has been a colossal failure. We can say unambiguously that the entire economy took a beating with the biggest price being paid by the people in the informal sector - those who were least able to cope with the temporary disappearance of cash. Small businesses, self-employed people, pavement vendors suffered, some seem to have gone out of business. The impact is seen in the declining GDP growth, which was slowing earlier; demonetisation pulled it down further. The poorly designed and implemented Goods and Services Tax (GST) adversely affected the growth. The demonetisation decision was taken at a time when the economy was bracing itself for the introduction of GST.
There have been many theories for why the Narendra Modi Government went ahead with Demonetisation 2016 in spite of advice to the contrary from the previous RBI Governor Raghuram Rajan. Whatever be the real reason for demonetisation, we know that at one stroke the Modi government shed its image of 'a suit-boot sarkar'.
Given the scourge of corruption in India, it is not surprising that people from all strata willingly gave this "big bang" demonetisation a chance. This perhaps explains people's patience during the first 50 days of demonetisation and their unwillingness to condemn the demonetisation decision. The voter may finally punish the Modi government for a poor economic policy decision, which would, however, depend on the government's media management skills and gradual realisation by people that they were made to suffer for no reason.
—The writer is the author of 'Demonetisation and Black Money', Orient BlackSwan, 2017.
Top Stories