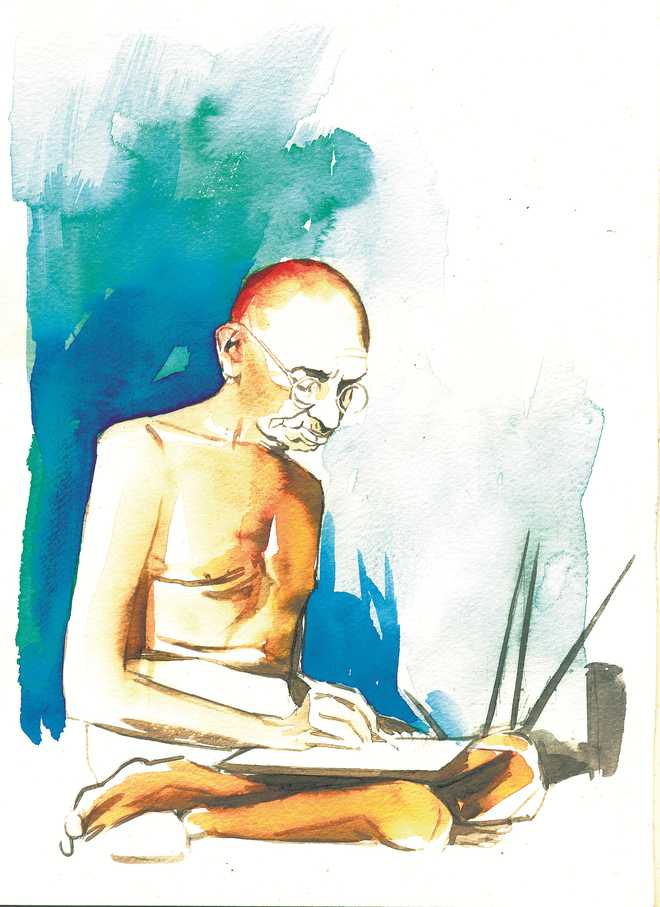 Yogendra Yadav
What would be Gandhi's thought about our economy? He would have focused on agriculture and insisted that it represents India's future. With rising farmer suicides and falling farm-produce prices, he may have launched a Satyagraha for fair prices for farmers and their emancipation from debt trap. But he would also not have shied away from reminding the farmers against non-sustainable practices
How would Gandhi have wished to celebrate his 150th birth anniversary? A hard guess, but we can be sure of one thing. The last thing the Mahatma would have wished for would be a grand sarkari committee to plan a country-wide celebration, a lavish ceremony with dignitaries (read VIPs), marked by the grandeur of the Indian State, paid for by the poor citizens of the country. He was no sarkari saint, who would happily preside over pomp and show, while uttering spiritual inanities. He could be acerbic when needed. Perhaps that is what he would have done to the sarkari celebrations.
What gift would he have wished for? He may have asked for instant elimination of manual scavenging and manual cleaning of sewers. Beginning as a defender of varna system, he had, in his own lifetime, reached a point where he would refuse to attend any wedding if it was not between Dalit and non-Dalit Hindu. His thoughts on caste would have evolved further by now. He would have launched a vehement attack on the varna system and articulated in a common man's language how it is a system of violence. Given his penchant for out-of-box suggestions, he may have even demanded that government jobs be reserved only for those who undertake inter-caste marriages.
What would he want us to reflect upon? Given his own life experience, we can be reasonably sure that he would have visited every single mob-lynching victim's family, camped with them, stayed with them and not moved an inch away till he touched social conscience. He would have called for Panchayat meetings in the areas where Mohammad Akhlaq and Inspector Subodh Kumar were lynched and would have demanded an oath to not only not indulge but also prevent mob violence. He would have visited the homes of Tabrez Ansari and Vishwajeet Paswan and announced that he would rather have a cow slaughtered than a human lynched to death in the name of cow.
Where would he be on October 2 this year? We don't have to think too hard. Let us not forget that on the 15th of August, 1947, the Father of the Nation stayed away from Delhi and all official celebrations. He instead chose to be hundreds of miles away, travelling on-foot on the streets of Kolkata and camping in Noakhali to douse the communal fires.
Today, he would have absented himself from the 'grand celebrations', walking on the streets of Kashmir, rebuilding the burnt bridges between the hearts of common Indians and Kashmiris. On the morning of August 6, he would have left for Kashmir. If he was detained at the Srinagar airport, what would Gandhi have done? Certainly not fly back to Delhi for a press conference. Right there at Srinagar airport, he may have launched a fast-unto-death to be allowed to meet Kashmiris in their homes and speak to their hearts. He might have succeeded in forcing the government to yield. He would have, of course, refused any security cover from 'stone pelters'. He might have said, "I would rather die of their stones than turn their homes into prison." He would have advocated the release of those detained including the politicians, visited the separatists and spoken to them, and travelled through the villages of Kashmir advocating the idea of India and of non-violence. Gandhi would have wiped the tears of Kashmiris who have been tortured and maimed with pellets but would also have visited Hamidullah and his five-year-old granddaughter in Sopore.
What would be Gandhi's thought about our economy? No doubt, he would have focused on agriculture and insisted that it represents India's future. With rising farmer suicides and falling farm-produce prices, Gandhi may have launched a Satyagraha for fair prices for farmers and their emancipation from debt trap. But he would also not have shied away from reminding the farmers against non-sustainable practices. The ambit of his concerns would have no doubt gone beyond India. The depleting ground water tables would have consistently found a mention in his prayer meetings as would have global warming, carbon emissions and the armament race.
But what would give him hope? He would have invited Greta Thunberg and Malala Yousafzai to India and travelled with them through the villages of India. He would have invited Volodymyr Zelensky for a speech in the Parliament of India. He would have quietly joined #MeToo by standing with Priya Ramani as she spoke truth against powers-that-be.
How would Gandhi have communicated? He would surely not be writing letters on a paper. He was smart with his communication. Armed with a laptop and a smart-phone, he would have been sending e-mails and advocating open-source software. He would surely have a Facebook page to livestream his prarthna sabhas, an Instagram account that would be his travelogue, a Twitter account that would have become the voice of the marginalised in the virtual world.
How would Gandhi have responded to congratulatory messages from global dignitaries on his birthday. I suspect Gandhi would have sent an email to Boris Johnson, a Twitter DM to Donald Trump and a YouTube message to Modi in Gujarati. After polite thank-yous, he may have concluded all the three messages on the same note: I beseech you. Don't lie. By lying as you do, you demean not just yourself but your nations as well. The old man would have ensured that these messages are released to the public.
— The writer is the national president of Swaraj India