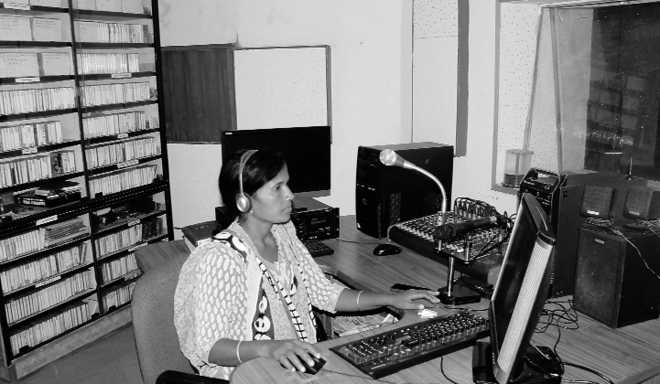 About 110 km from Hyderabad, Pastapur is a small village in Telangana's Sangareddy district. It is making waves: Running a community radio — run by women, for women and of women belonging to weaker sections.
Billed as India's first such initiative, 'Sangam Radio' covers nearly 150 villages in the district with programmes packed with social messages, folk songs, farming and health tips, skits and information about local festivals and fairs. The two-hour long programme, broadcast from 7 pm to 9 pm every day, is conceived and executed by members of women's groups, or Sangams, as they are called.
"You can see people in all these villages glued to their radio sets in the evenings to listen to our programmes. We also have an interactive session where callers can share their experiences with us," says producer H Narsamma, a Dalit woman, the brain behind the initiative. She and her colleagues work in the fields during the day and turn broadcasters by the evening. An all-women bureau of reporters goes out into the field to get stories.
"When we visit a village, we meet different kinds of people and record their observations on various issues, including farming. We also record songs that are sung while working in the fields or during weddings and festivals," Narasamma says.
Narsamma and Algole Narsamma multitask as reporter, producer, RJ and station managers. Theirs has been an arduous journey. Help came from the local NGO Deccan Development Society (DDS), engaged in rural development, women empowerment and education. It started the project in 1998, but had to wait for nearly 10 years to get a licence from the Centre. It went on air on October 15, 2008.
The DDS works with about 100 Dalit women's groups (Sangams) consisting of nearly 5,000 members across 75 villages. With the support from UNESCO, it established an FM radio station, a transmission tower and recording facilities in the village. The radio was conceived with the objective of helping the village communities articulate their concerns, give the marginalized a voice and disseminate the traditional knowledge about farming, biodiversity, and public health.
While awaiting the government's approval, Sangam had in 1999 started narrow-casting in which recordings were made on a tape and was broadcast for a limited audience in a place where the communities could gather. Half-a-dozen women from Dalit, poor, landless families were trained in all aspects of radio programming. The radio now runs with eight reporters and all of them are on the rolls of the DDS. Over the years, Sangam has collected of about 2,500 songs sung by members of the community, often with instrumental accompaniment.
"We were identified as a partner for UNESCO's 'Women Speak to Women' project. As part of this, we established the radio station with the programming content aimed at serving the information, education, and cultural needs of the region," says Director of DDS, PV Satheesh. The information specific to agricultural needs, education, literacy, public health and hygiene, environmental issues, food security, gender justice and indigenous knowledge systems went into the programming content.
Initially, UNESCO gave Rs 28 lakh to set up the radio station. The funds were utilized for buying land. The transmitter also came in as a donation from UNESCO. The DDS pays for the maintenance and production of programmes which cost around Rs 4 lakh a year. It is currently being assisted by development and communication experts from universities in the region.