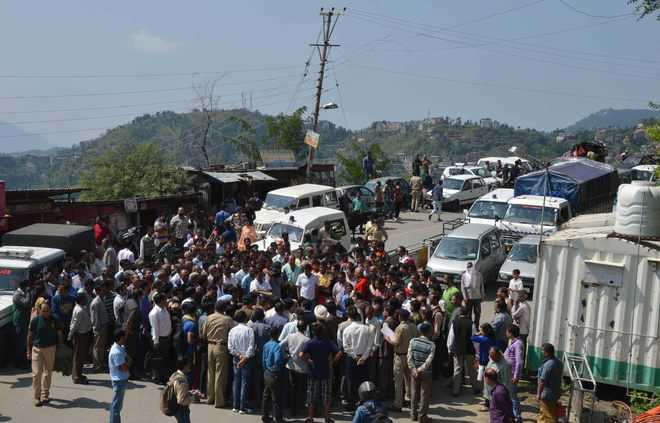 Kuldeep Chauhan
Tribune News Service
Shimla, September 23
Erratic power supply to the 20 MLD Giri pumping house and leakage in its jaded 1-km water pipeline has resulted in 60 per cent water loss. This has triggered a fresh water crisis in the city as the availability of water in storage tanks has dropped from 42 MLD daily to 25-30 MLD.
"HP State Electricity Board Limited (HPSEBL) that supplies power to the Giri, Koti-Barandi and Been pumping houses has failed to ensure the 24x7 supply to the Shimla Water Development Authority," said officials of the Shimla Municipal Corporation (SMC).
This, in turn, has hit water lifting and the SMC has now resorted to rationing of water as the city needs about 40 MLD water daily.
"Between September 1 and September 22, the HPSEBL resorted to tripping and power cuts around 56 times with the duration of cuts ranging from five minutes to 24 hours. Due to the fault in the HPSEBL feeder, water from Giri near Sainj was not lifted for 18.40 hours on September 21-22, and for 24.45 hours on September 10- 11," said Deputy Mayor Tikender Panwar.
"Rolling blackouts and power cuts have become the order of the day. Not only the water is wasted, but the pipeline too is damaged this way," said engineers of the Irrigation and Public Health Department. The outages are affecting other pumping schemes at Guma, Koti Barandi and Been.
"Giri is giving just 8-10 MLD water daily as against the installed capacity of 20 MLD. The tripping and power cuts result in 1 MLD water loss. It also hampers lifting of water," Panwar said.Due to the leakage, 60 per cent of water is going waste at schemes like Guma, Giri, Ashwani Khud. In August, the average availability was about 38 MLD, which these days has been reduced to 25-30 MLD.
The Ashwani Khud Lift Water Scheme used to supply about 4 MLD water as against its capacity of 10.80 MLD to Vikasnagar, Chhota Shimla and Kasumpati daily, but the supply was stopped in January due to sewage contamination. New sources — Koti, Been and Barandi — were tapped. These supply about 2 MLD water daily.
Panwar said the SMC got the water supply authority in July, adding that most pipelines were in bad shape. "We are replacing these and Rs 50 crore is being spent. A sum of Rs 3.5 crore is being spent on laying an alternative pipeline of over 2,000 m. The work will be completed by October," he added.
The Ashwani Khud pipeline is also being replaced. A sum of Rs 3.53 crore has been earmarked. "We are spending Rs 13.18 crore on the repair of Guma pipeline from Craignano to Dhalli and Rs 2.68 crore on the pipeline from Sanjauli to The Ridge tank," Panwar said. HPSEBL MD PC Negi said the tripping was due to a changeover. He said there was no fault in the lines.
Top News
2 others eject safely I Debris strewn across miles I Sukhoi,...
Visit comes ahead of NSA chief's US tour
Union Ministers call it part of efforts to de-colonise, indi...