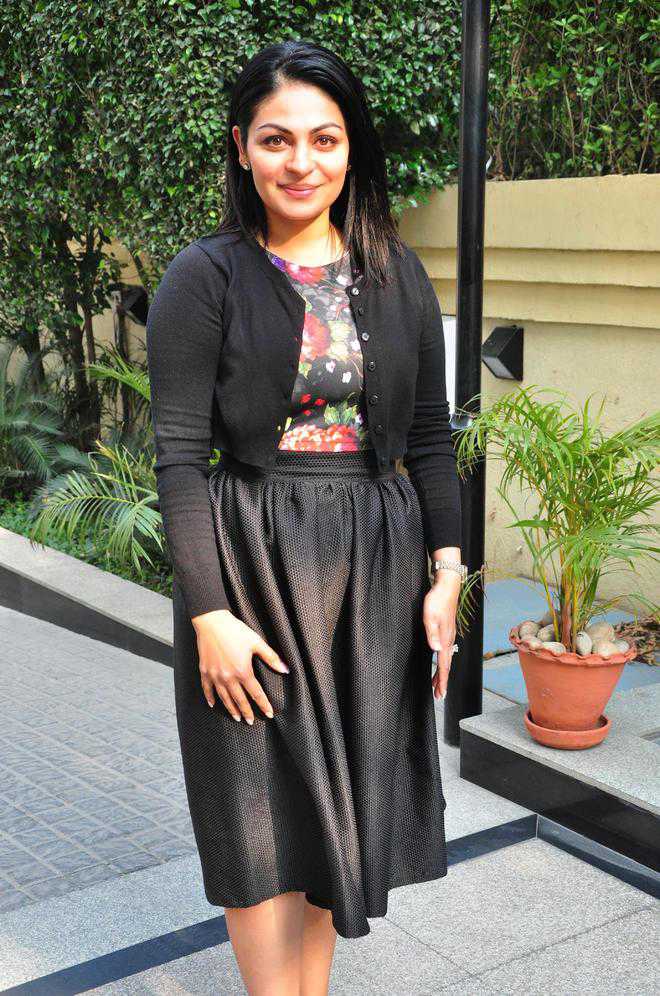 Manpriya Singh
Who hasn't heard of the clichéd Bollywood phrase, 'getting into the skin of the character'. But getting actually pregnant doesn't even compare to the likes of visiting prisons, learning Parkour and even putting on weight. Neeru Bajwa was actually eight months pregnant during the filming of Channo Kamli Yaar Di. Or, was it the other way round?
"I was pregnant when they came up with the script, my husband and I liked it and we said, let's make it." So much for the background of the film that will see her go easy on the make-up, clothes and the image entertained so far. A story that sees her playing, well, as the name suggests, Channo, a pregnant woman who goes to Canada in search of her husband. "It is a very powerful female character, which is a great thing especially in the male- dominated Punjabi entertainment industry." As for Binnu Dhillon as the co-actor, "No one knows he is such a brilliant actor. They have never really allowed him to explore the serious side of his acting."
Husband, baby, life
Having safely and even, secretly, delivered the baby, "which was born by end of August," she is hesitant of revealing the gender as yet. "I will disclose that in some more time."
It all somewhere speaks of a happy marriage and her famous mystery man, showing up only in 'hide and seek' pictures on Instagram. She laughs, "He already had this Instagram thing going on, because when I met him, I tried to find out about him. But I told him that he can't evade this for long and how he must show before they catch a bad picture of him."
Acting is easier than producing
As much as the fact that, "I've always wanted to produce films, acting is comparatively much easier. You just have to show up in front of the camera and that's it." She adds, "However, you literally have to kill your ego to turn a producer. You have to keep everybody happy in the team to get the work done." Nevertheless, it is only a beginning, "I want to make good entertaining films. This is only the first film under our banner and for the record, it is not a serious film."
A Punjab premiere? No
It was ditto for Sardarji which skipped a Punjab premiere and it will be the same for Channo Kamli Yaar Di, all set to premiere in Vancouver. "It's impossible to accommodate all the people here." Currently, on a promotional tour, she heads back on the February 18, just in time for the release.
---
You can run
Every cause needs a number of sponsors, a couple of stars, and a lot many ardent supporters. This one promises to club it all and cash in. Calling all the runners in the city is Big Chandigarh Marathon (a joint initiative by Exotic Group and 92.7 Big FM). Into its fourth season, the event is, "Expected to see as many as 10 to twelve thousand participants. As last year we received 10,000 entries," share the organizers, during a press conference to announce the initiative, in Chandigarh.
Shares Neeru Bajwa, in city to promote the event, "This is for the first time, I'll be participating in a marathon. The maximum I have run before is 5 km," she shares, when questioned on any former experience or interest in the marathons. "To be able to run 21 km requires a lot of training and time to be able to train."
Thrown in to the initiative are key words, which appeal to the minds but aren't that easy to achieve; words like smart city, smart traffic, beggar free smart city, pollution free smart city. The marathon this year is divided into two parts, one for professional runners comprising 21 km and the other 5 km run for fun for general public. The entry fee for half marathon will be Rs 500 and Run For Fun will be Rs 100, respectively. The marathon to start from Rock Garden on March 13.
Top Stories