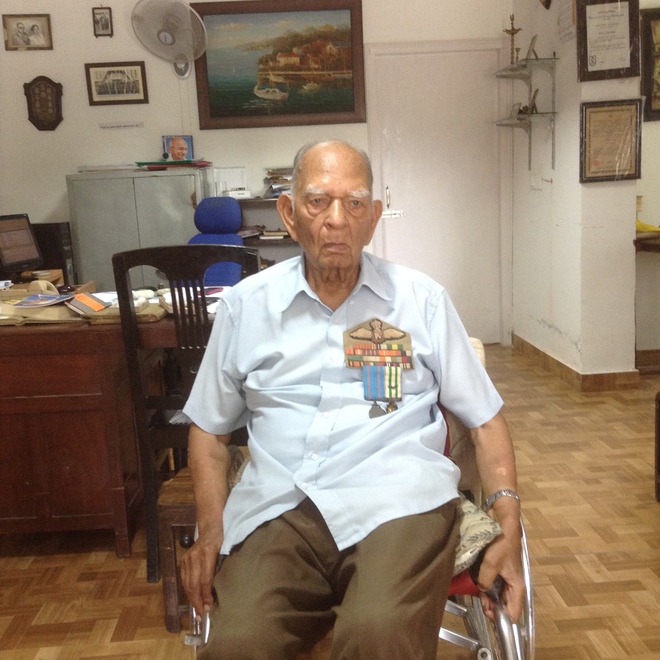 Neena Sharma
Tribune News Service
Dehradun, September 27
During the 1965 war, Air Commodore Narender Bahadur Singh, then a Wing Commander, carried a reconnaissance mission in East Bengal, then part of Pakistan, while posted in the eastern sector of India that did not see much action.
The 88-year-old fighter pilot, who hails from Amethi but settled in Dehradun, admits candidly that India was not prepared for the war and there was lack of coordination between the Army and the Indian Air Force. "I was posted in Bagdogra then as the Commanding Officer of 20 Wings. We had fighters comprising Vampires and Toofanis in our fleet and were asked to be on alert after the war broke out.
"Following orders from the senior Air Force commander in Siliguri, we were told to take an exploration flight in the eastern part of Pakistan. I flew low but did not detect any activity on the ground and reported the situation back to my seniors. But when we later carried out more sorties inside East Pakistan, the enemy retaliated with vengeance," said Air Commodore Narender.
The Pakistan Air Force destroyed a twin-engine Packet transport aircraft used by the IAF for supporting troops stationed in higher altitudes by ferrying supplies. "These aircraft are quite big. We could not remove them and hence had to use other means to cover them up but were unsuccessful. Pakistan then mounted air attacks with Sabres from Kurmi Tora and Tejgaon airfields and destroyed these aircraft," said Air Commodore Narender.
He also remembers how four Vampires waiting to raid East Pakistan became sitting ducks for the Pakistan Air Force and were destroyed in an early morning raid. Air Commodore Narender, who was later posted at 14 Squadron during the 1971 war, says India was better prepared for the war in 1971. "There was better coordination between our forces and intelligence gathering also saw a marked improvement," he added.
Top News
Cane growers will get Rs 391 per quintal, says Bhagwant Mann
Polling draws to a close | Counting of votes on Dec 3
The data showed Punjab had only four days in 2023 where fire...