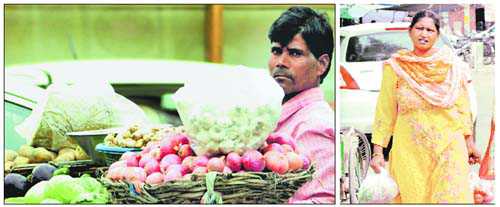 Manish Sirhindi
Tribune News Service
Patiala, April 5
Despite a complete ban on the use of polythene bags, as ordered by the National Green Tribunal (NGT) and enforced by the state government on April 1, eradication of one of the worst pollutants continues to be a herculean task here.
While the enforcement is still in its infancy, the civic authorities have constituted three special teams, which challaned more than 48 shopkeepers and individuals over the last five days.
Though action being taken by the authorities should prove as deterrent, polythene bags are still in circulation and people can be seen carrying these in various parts of the city.
The city and its vicinity are home to 4.46 lakh people, which have been facing environmental degradation even as some residents and NGOs had been taking up the environmental cause and even fighting against the use of polythene carry bags. The ban has strengthened their resolve.
According to Jaspal Singh Dhillon, an environmentalist, being a non-biodegradable product, polythene carry bags go on polluting the environment for years and years together. It makes soil infertile and unfit for other uses. It release harmful toxins into the air and restricts seepage of water, and prevents recharging of underground water leading to fall in the water table. Besides, by blocking sewers it also exposed the city to floods during heavy rains.
Municipal Corporation Commissioner PS Gill said while the authorities were doing their part to check use of plastic, the only way to completely eradicate this pollutant was by reshaping the public perception of the impact of polythene on the environment.
Varun Sachdeva, who is associated with the 'People with environmental concerns', said they were now hoping that the ban would see the return of biodegradable packaging material like jute, cloth and paper bags, which would save the city from the prolonged pollution caused by plastic bags.
It was in January this year that a Bench headed by NGT Chairperson Justice Swatanter Kumar issued notices to the Punjab and Haryana Governments to explain why the use of plastic carry bags was not be completely banned in both the states.
Top News
Says the meltdown of Adani Group would not impact country's ...
The regulator says committed to ensuring market integrity; m...
Appointments come amidst strong observations by a Supreme Co...
Firm exported two consignments of 24 batches of the allegedl...
Over 100 members of 19 families were evacuated after their h...