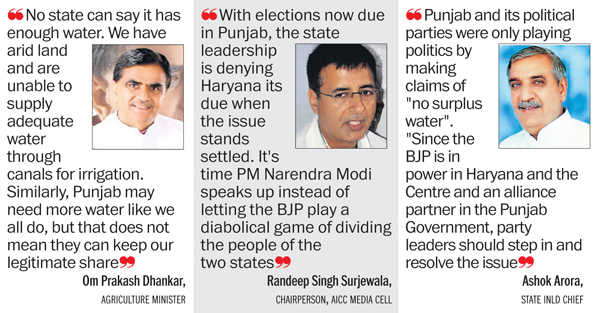 Geetanjali Gayatri & Parvesh Sharma
Tribune News Service
Chandigarh, March 6
Haryana is in no mood to buy the Punjab government's "no-surplus-water-to-share" declaration and will counter this "political stunt" pulled off with an eye on the Assembly elections slated for the next year.
While Haryana is getting 16 of the 35 lakh acre feet (LAF) that comes from the Ravi-Beas allocation, the "water war" between the states is over the remaining 19 LAF that Punjab is unwilling to concede despite previous agreements and court orders.
For the first-time BJP government in the state, Punjab's refusal to give Haryana its due could well end up as a tug of war between the respective state units of the party.
While a delegation of the Punjab BJP, also an alliance partner of the Shiromani Akali Dal in power in Punjab, recently met Union Home Minister Rajnath Singh to convey its inability to give more water to Haryana, sources in the Haryana BJP, too, are not averse to approaching the Centre to push for what is "rightfully" theirs.
Haryana Agriculture Minister Om Prakash Dhankar said the state was in a dire need of its 79 LAF water coming through two channels. "Though one channel has been getting full water of 44 LAF, Punjab is unwilling to release the remaining 19 LAF water. We will fight it out," he said, marinating water was not the property of any state.
"No state can say it has enough water. We have arid land and are unable to supply adequate water through canals for irrigation. Similarly, Punjab may need more water like we all do, but that does not mean they can keep our legitimate share," he said.
Political parties say this ploy is merely Punjab's attempt to build up its case since the next date of hearing by the Constitution Bench of the Supreme Court on the presidential reference pertaining to the Punjab Termination of Agreements Act 2004 is on March 8.
The Punjab Assembly had passed the Bill terminating water sharing agreements of Punjab with neighbouring states when Capt Amarinder Singh was the Chief Minister, jeopardising the construction of the Satluj Yamuna Link (SYL) canal.
Randeep Singh Surjewala, chairperson of the All-India Congress Committee media cell, said, "This is typically the BJP game of double-speak. During the Haryana assembly elections, the central and state leadership promised the people its legitimate share. With elections now due in Punjab, the state leadership is denying Haryana its due when the issue stands settled. It's time Prime Minister Narendra Modi speaks up instead of letting the BJP play a diabolical game of dividing the people of the two states."
Ashok Arora, state INLD chief, said Punjab and its political parties were only playing politics by making claims of "no surplus water". "Since the BJP is in power in Haryana and the Centre and an alliance partner in the Punjab Government, party leaders should step in and resolve the issue," he said.