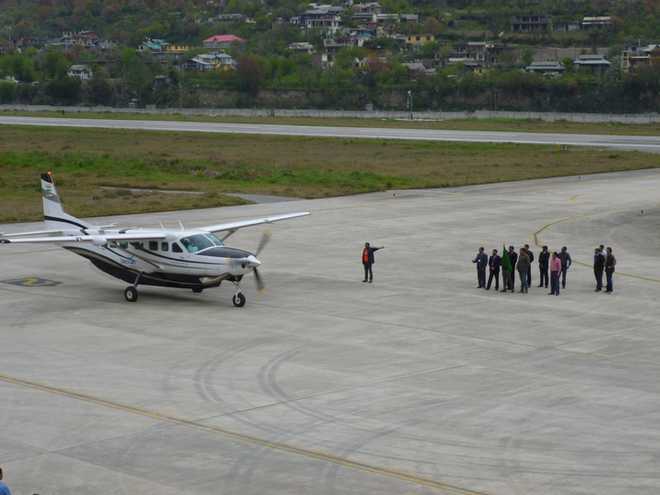 Abhinav Vashisht
Kullu, January 4
Manali-based private airlines company Himalayan Bulls, in association with Deccan Charter, is set to revive its eight-seater chartered flights between Kullu and Chandigarh from April 10.
The company has started accepting return bookings for the Chandigarh-Kullu sector till July 10 from the proposed date of re-start through its online portal www.airhimalayas.com.
A fare of Rs 5,825 has been fixed by the airlines for one-way travel between Chandigarh and Kullu or vice-versa for the first three seats, while the remaining five seats will cost Rs 6,949 each.
Founder and Managing Director of the airline BS Thakur said the eight-seater Cessna Grand-208B aircraft would be based at the Bhuntar airport and will operate two flights daily.
The tentative time of departure of the 40-minute one-way flight from Bhuntar to Chandigarh would be 11 am and 12.40 pm. The flight will take off from the Chandigarh airport to Bhuntar at 11.50 am and 1.30 pm, he said.
The airlines, which commenced its operations last year, was only able to operate during summers. This came as a respite to those associated with the tourism industry as the lone national air carrier cancelled its operations in June last year.
Recent notices by the Himachal Pradesh High Court to the Centre and state governments on poor air connectivity in the state has raised hopes of the tourism industry, which has been demanding regular air connectivity to the Bhuntar airport.
With the Air India carrying out only one flight six days a week, the number of high-end tourists visiting the valley has gone down. There was no air connectivity to the valley during the Christmas and New Year season last month. Experts sighted poor air connectivity as a major reason for the depleting number of foreign tourists to the valley.
Bhupinder Thakur, patron of the Kullu Travel Agents' Association, said the "apathetic" attitude of the Union and the state governments to restore air connectivity had hit the tourism industry hard.
President of the Kullu Travel Agents' Association Atishaye said high-end tourists were opting for other destinations due to poor air connectivity and the bad condition of the Chandigarh-Manali National Highway.