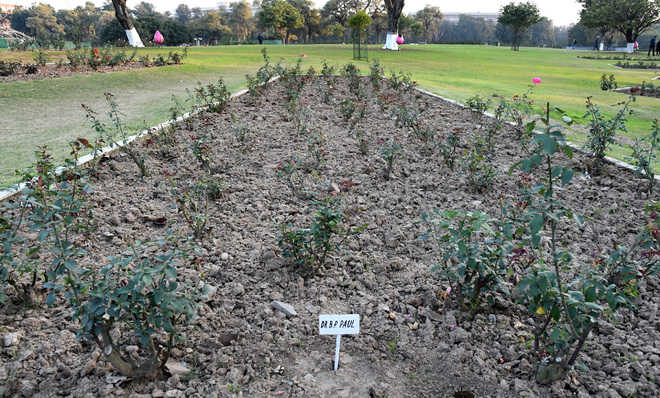 Tribune News Service
Chandigarh, February 13
While the Chandigarh Municipal Corporation is organising a competition for the newlyweds and a chopper ride to promote the Rose Festival, scheduled to be held from February 17 to 19, there are a number of dried rose beds in the Rose Garden, Sector 16, that will welcome the visitors during the festival.
A visit to the Rose Garden in Sector 16 revealed that the rose beds on the entrance of the garden and the area around where the MC would set up the main stage for the Rose Festival were in full bloom.
But the rose beds which are situated at a distance from the main stage and the area close to the N-choe, there are hardly any roses in the rose beds. For example, in the rose bed named 'Dr BP Paul', there were hardly any roses.
With the MC officials claiming that there will be 829 varieties of roses, sources said there would be only around 400-500 varieties of roses in the Rose Festival. Other varieties will be in full bloom during summers, when the Rose Festival will be over.
While the MC workers were busy preparing for the Rose Festival, the garbage was seen around the N-choe.
When contacted, MC Chief Engineer NP Sharma said this time there would be 829 varieties of roses for visitors. But if there are dried rose beds, he will seek report from the MC's horticulture wing, Sharma said.
Box: Rs 49 lakh spent on Rose Festival
The Municipal Corporation will spend Rs 49 lakh on the Rose Festival. There are 829 varieties of roses at the garden spread across 40 acre. As per the officials of the Horticulture Department, there are 1,400 flower beds and nearly 40,000 plants.
Box: Hailstorm responsible for delayed blooming
An MC official said recent hailstorm also delayed blooming of roses. Besides, there are different seasons for roses to bloom. Some varieties will bloom in summers, he said.