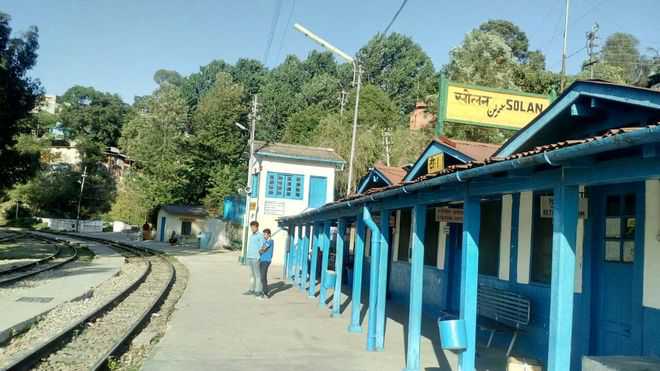 Ambika Sharma
Tribune News Service
Solan, May 18
To save energy consumption, all 17 railway stations on the world heritage Kalka-Shimla rail track will soon have the solar lighting system.
Divisional Railways Manager, Ambala, Dinesh Kumar said the engineering staff was in the process of working out the modalities of introducing the solar lighting system at these 17 railway stations in a phased manner. He said its work would soon be started.
"Though no separate budget has been made available for the initiative, funds will be spared from the available budget and the work will be started," said Dinesh.
The solar power can also be used to light up coaches, helping in saving power and making all stations on the track green in the second phase. It will also help the Railways earn some carbon footprints for reducing the use of energy.
Some public sector companies like the Container Corporation of India are helping the Railways to bear the cost of introducing the solar energy-based system in its stations as part of their corporate social responsibility.
As it is a world heritage rail track, the railway authorities are compelled to retain the track's ancient architecture, but transformations are not permissible. The introduction of the solar lighting system will help conserve energy consumption.
With the Ministry of Railways laying stress on making the railway stations energy efficient, officials are working out the nitty-gritty of adopting energy efficient technologies.
The stations to be covered under the initiative include Taksal, Ghumman, Koti, Sanwara, Dharampur, Kumarhatti, Barog, Solan, Salogra, Kandaghat, Kanoh, Kathleeghat, Shoghi, Taradevi, Jutogh, Summer Hill and Shimla.
The Ministry of Power is encouraging energy efficient railway stations by awarding them annually. The Allahabad city railway station had received the award in 2014.
The 96-km Kalka-Shimla track is listed on UNESCO's world heritage list and is an engineering marvel comprising 102 tunnels and 864 bridges. Constructed in 1898 by the British to provide connectivity to Shimla, which was their summer capital, it was declared a world heritage track in 2008. The 2 feet 6 inches narrow gauge draws visitors from various foreign countries, especially in during the summer, for its scenic beauty.
Top Stories