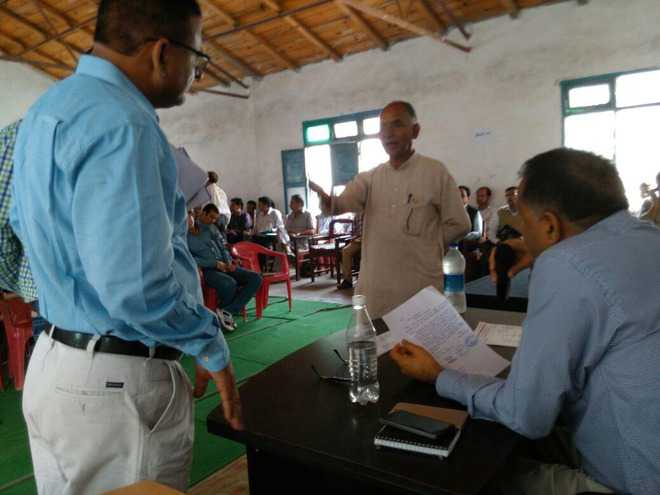 Tribune News Service
Mussoorie, October 4
Tehri District Magistrate (DM) Indudhar Baudai halted the job appointment process for the Lakhwar Byasi hydropower project being carried out by project manager Rajesh Kumar during Tehsil Divas at Sardar Singh Inter College School at Nainbagh here today. Baudai's move came after public representatives aired their concerns regarding appointment of outsiders, instead of locals.
The Tehri DM directed Rajesh Kumar to ignore the previous orders, assess the land of the villagers and identify the beneficiaries before starting the appointment process.
Of the 46 complaints registered today, the DM expedited four cases and assured to resolve the rest within one month. He also directed the Public Works Department to prepare estimate for the construction and repair work at the Government Sardar Singh inter College. "Until the tehsil building is constructed, rooms of a hospital should be used temporarily to run the tehsil activities," he said.
He also inspected the residential quarters for tehsil officials, and directed the officials concerned to complete the repair works soon. Public representatives also presented a memorandum to Indudhar Baudai for changing some clauses in the government order on the OBC status in the district to enable people to derive benefits from it.
He also directed officials to link the tehsil with the broadband service without delay. He directed treasury officer Romil Chaudhry to work towards digitisation of the revenue records. He also directed District Education Officer Dinesh Chandra Gaud to appoint staff to fill vacant posts at the primary school in Ghiya Koti village.
Officials of the Irrigation Department were directed to include small gram panchayats in flood control projects. He aired his anger at the PWD for not granting compensation for the land used for road construction in the region.
Meanwhile, Anganwadi workers said they should be declared government servants. Baudai said only the Central Government could decide on this issue.
Local public representatives presented a shawl to the Tehri DM and other officials on the occasion.
Top Stories
Kohli not dwelling on all-win record against rivals