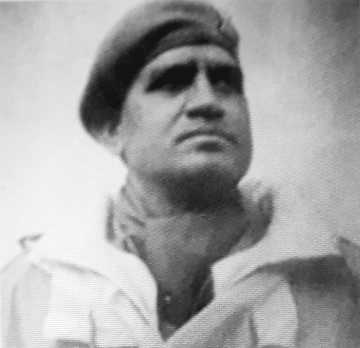 Maniki Deep
On October 20, 1962 at 5.00 am, China's People's Liberation Army invaded India at Aksai Chin area in Ladakh and across the McMahon Line in the North East Frontier Agency (NEFA). India was unprepared and was shocked at the turn of events. This was the first major war in the subcontinent since World War II.
When the situation worsened, a decorated war veteran, 46-year-old Brig Hoshiar Singh Rathee IOM, IDSM, Croix De Guerre, of Rajputana Rifles, was called at a short notice to defend the country on October 28. He was at that time the Deputy Commandant of the National Defence Academy in Khadakvasla (near Pune). Before leaving, he addressed the cadets of NDA in full battle dress and said that he was going to where he belonged — the battlefield.
At Se La, he commanded the 62 Infantry brigade comprising soldiers of battalions of various regiments, including 1 Sikh, 2 Sikh Light Infantry (LI), 4 Sikh LI and soldiers from Garhwal Rifles. Under his leadership, the enemy advance into Se La was halted for several days.
However, contradictory orders from the Army Headquarters and Lt-Gen BM Kaul, directing the operation from his sick bed in Delhi, added to the confusion. The Army had no maps, appropriate clothes or boots to tread the snow-clad battleground. A group of Chinese soldiers captured the road between Se La and Bomdi La through a circuitous route. All this while, Brig Hoshiar Singh stood firm at Se La pass.
The Chinese troops cut off the communication lines between Se La and Bomdi La. At Se La, there were no plans for withdrawal in view of the onslaught by Chinese army. By November 16, Se La defences were stocked for 12 days. The Army was ready to fight the Chinese invaders. But, panic set in on November 17, when the 4th Division GOC Maj-Gen AS Pathania, lost his nerve and decided to withdraw the troops from Se La and shift to his own headquarters behind Bomdi La. He put in a request for the same to his seniors.
According to unofficial information, arrangements were made to evacuate Brig Hoshiar Singh. He refused and said that he would prefer to fight and die with his soldiers. While Maj-Gen Pathania abandoned Dirang in the forenoon of November 18 and was evacuated by Gen Kaul in a helicopter, Brig Hoshiar Singh argued that he was adequately equipped and ready to take on the Chinese. He was forced to withdraw with the warning that he would be court-martialed.
He was killed in an ambush by Chinese troops.
Brig C Sawant, who has also researched on Brig Hoshiar Singh once wrote, "I shall be failing in my duty if I do not pay tribute to those who fought till the last round and breath. Among them stands tall Brig Hoshiar Singh, Commander of the Se La Brigade, who gave a bloody nose to the Chinese even after being cut off from his division headquarters at Bomdi La. He made the supreme sacrifice in the battleground." His calm and confident conduct was outstanding and he was an inspiration to all those who knew him.
According to the decision of Krishna Menon, Air Force was not deployed in the operations. The war was fought only by the Indian Army.
While the political leadership failed, the war was all about the heroism of our jawans and officers. Sacrifice of Brig Hoshiar Singh and soldiers like him should always be held in high regard. Tales of their heroism have become folklore for the people of Arunachal Pradesh. These have passed through generations. After his martyrdom, Pandit Jawaharlal Nehru and Partap Singh Kairon, Chief Minister of Punjab, went to Sankhol village to pay homage to the martyr. There is a stadium in Bahadurgarh in his name. Unfortunately, he was not awarded any bravery award posthumously.
Encompassed in this narrative is the story of a brave soldier, the much decorated Brig Hoshiar Singh. His induction into the war theatre and later insistence on remaining with his troops in the battlefield and making the supreme sacrifice in action will always be remembered.
He will serve as an inspiration for our youth for a long time. For the present generations, he remains an unsung hero. His story should not remain a forgotten one!