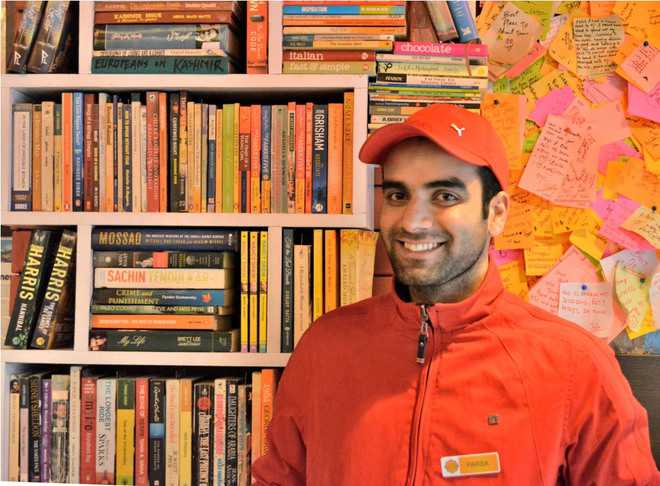 Aamir Khan
Srinagar, February 16
At a time when youth are hooked to their mobile phones, a city-based food joint is inculcating reading habits among its customers through a 'book bank'. The distinct feature of the mini-library at Sara City Centre's (SCC) 'Kathi Junction' is that it was started through books donated by customers.
And to promote the habit of reading among youth, the eatery is renting out books for free to its members.
"I conceived this idea last autumn to revive reading habits as youngsters are mostly glued to their cell-phones now-a-days. And when I posted the idea on the Facebook page of 'Kathi Junction', I received 300 books in a month," said Javid Parsa, owner-cum- managing director of 'Kathi Junction'.
Soon, more books were donated and Parsa started the mini-library on October 31, 2015. He said a few well-known local writers were impressed with the idea and they too donated books.
"Well known writers such as Dr Nazir Mushtaq and Ayaz Rasool Nazki too came here and donated books so that the youngsters are encouraged to read," he said.
While the customers who donate books get a membership card whereby they can avail discounts at the eatery, others are issued a book for a week. "Besides inculcating reading habits, the venture has proved fruitful for my business as well," stated Parsa, an MBA graduate, who quit a lucrative job at the Amazon to start a business venture in the Valley. Last year, Parsa received 'Youth Icon Award in Entrepreneurship' for his innovative business ideas.
Misbah Sajad, along with his sister Suha, has donated 26 books to the bank. She said they were impressed with the novel idea and wanted the youth to read more.
"We usually keep books on the shelves after we finish reading it. But by donating the books here, others too can read," Misbah said.
Parsa said he was now planning to add more shelves to his mini-library. "I have received nearly 600 books now and have told my customers to keep their donations on hold as there is no space to keep more books. I am planning to add more shelves as I get personal joy when a youngster borrows a book from my mini-library," he added.