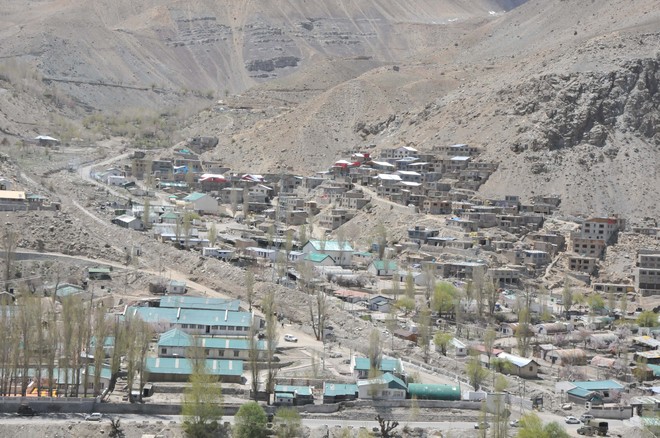 Arteev Sharma
Tribune News Service
Jammu, May 18
Ladakh is bracing up to test the endurance and physical limits of nearly 3,500 runners from India and 20 foreign nations who will assemble in the "land of high passes" to participate in an eco-friendly Ladakh Marathon — an international-level event —- on September 13.
The Ladakh Marathon poses a tough challenge for runners from India and around the world to run in the beautiful high mountain desert region —- once a central stop on the historic Silk Route between Central Asia and India —- as acclimatisation remains a major issue for visitors due to the high altitude and low level of atmospheric oxygen.
The event consists of four races, including 7-km race (shortest race), half marathon, marathon and Khardungla Challenge. Ladakh Marathon was rated as amongst the "top 10 nicest marathons" in the world by a leading online European magazine in April.
The major attraction will be the Khardungla Challenge, which is now the world's highest and among the toughest ultramarathons. It will attract some of the elite runners from across the globe. An ultramarathon is longer than the traditional marathon length of 42.195 km.
This 72-km ultramarathon will start from the scenic Khardung village and go uphill all the way to Khardungla (at an altitude of 5,359 metres) along the world's highest motorable road past summer yak pastures and stunning views of the east Karakoram mountains of Ladakh.
This is the fourth edition of the marathon that was started in 2012 —- two years after the devastating flash floods that claimed 200 lives and rendered thousands homeless in Leh district in August 2010. This initiative was started to convey to the world that "Ladakh is back and running".
The main aim of this marathon is to encourage the youth of Ladakh to "live a healthy lifestyle by taking up running and by becoming more aware of the need to protect this environmentally fragile region".
Over the past three years, the event has grown in size and is the sixth marathon in India, out of more than 120 such events, to be recognised by the Association of International Marathons and Distance Races (AIMS).
The event is organised by the Leh-based Rimo Expeditions with support of the Ladakh Autonomous Hill Development Council (LAHDC), which is the governing body of Ladakh and the state tourism and culture department. A senior official of Rimo Expeditions said acclimatisation was imperative and key to running at such a high altitude.
Top News
Hundreds are still believed to be trapped under rubble, and ...
Chances of Parliament taking up a discussion on Motion of Th...
A Muslim man alleged he was assaulted and abused in the name...
Frank Hoogerbeets describes himself one having 'utmost respe...
Will be produced before the competent court in Mohali on Tue...