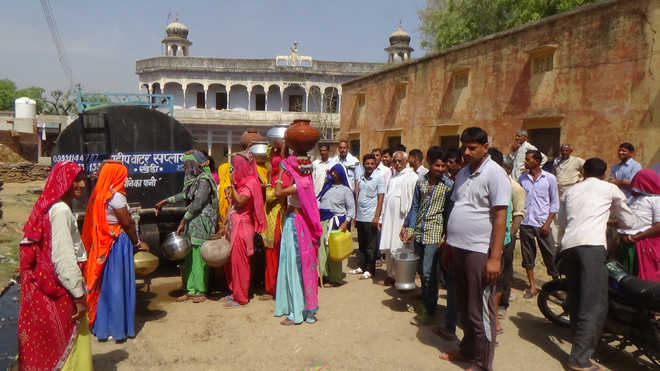 Ravinder Saini
Tribune News Service
Mahendragarh, May 8
Residents of many villages located near the Rajasthan border are forced to buy drinking water from the neighbouring state to meet the daily requirement as tubewells have dried up in the area.
"Two of the four tubewells have desiccated due to deficit monsoon last year, while the remaining ones have started producing bitter water on account of depleting water table. In the given situation, villagers depend upon Rajasthan-based private suppliers who charge Rs 500 to 600 per tanker," said Narender Singh, sarpanch of Kheri village.
The situation is no different in the adjoining Naavdi and Rampura villages. "A canal was dug more than 30 years ago to supply drinking water in our village and surrounding areas, but we have never seen water in the canal. However, it is repaired every year," said Mahabir, sarpanch of Naavdi village.
He said: "Two tubewells were installed in the village to supply water. But now, both are producing undrinkable water. Villagers are forced fetch potable water from neighbouring villages."
The water was also supplied to the village from a borewell of adjoining Bans village but it was not sufficient to meet the daily requirement, he said, adding that over 60 houses in the village buy water from private suppliers.
Bhanwar Lal, Executive Engineer (Public Health), said tubewells had dried up in some villages due to poor monsoon last year, but at least 40 litres of drinking water per person per day was being supplied daily to all villages. He denied any private supply of drinking water in the bordering villages.
Top Stories