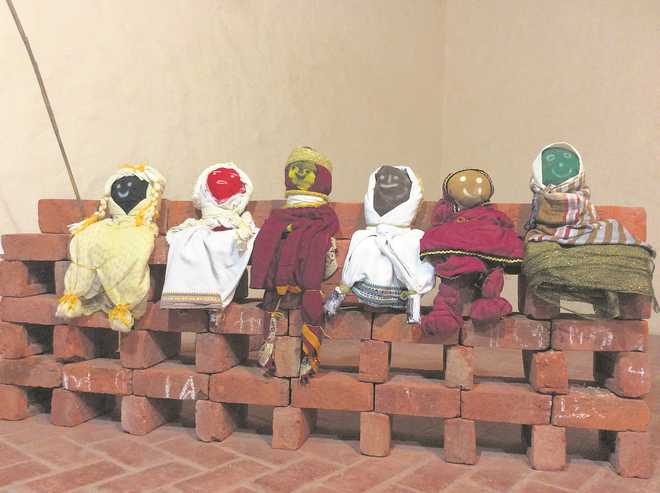 Nonika Singh
What art is, in reality, is this missing link, not the links which exist. It's not what you see that is art; art is the gap. — Marcel Duchamp
And when a play comes by the name of Gumm Hai (Missing) directed by celebrated theatre director Neelam Mansingh Chowdhry, on the surface the name may sound innocuous. At the level of storytelling, it might be about a missing girl, all of 11. But in the hands of Neelam, who has singularly transformed the contours of Punjabi theatre and made us relook at what a Punjabi play ought to be, nothing is ever singular or open to just one interpretation alone.
The present play, in Hindi, is sourced from several texts, many of whom like Seven Stages of Grieving, a performance text by Wesley Enoch and Deborah Mailma, she read some time ago. Clearly, her task was not cut and dried, but was rather doubly challenging. "One may assume that this freewheeling sourcing, where at one moment I am inspired by Anuradha Kapoor's Naale Waali Ladki and in yet another by the movie Three Billboards, allows you greater creative freedom. However, it is a very complicated space to work from as against a structured text. It is like a jigsaw puzzle where you try to fit in varying references, it's akin to having many stories stitched together with a common thread."
She was tempted to take the path less trodden as she believes that "however unconventional a playwright might be, there is a certain conventional mode of writing one. Plot development and characterisation, for instance, follow a certain graph."
Neelam would rather buck linearity and ensure that the text becomes a part of her actors' memories and not just her own. Theatre might be perceived as an actor's medium, but she feels that they need a third eye, "someone to tell them where they are going off key." She finds herself constantly correcting their diction and body language to ensure a balance between word and movement. Another chasm she always strives to bridge is between the personal and the universal, the 'I and them.'
Like most of her plays, Gumm Hai began with the personal. "Your state of being does determine your choices and is the starting point," she says. The grief she experienced after the demise of her other half may have been the trigger for immersing her sorrow in her work, but in no way is it a personal diary. She shares, "Personal loss changes your whole life, but it's not as if that part of you is open to public view. Personal, one hopes, becomes communicable and reaches out to more than a person." Gumm Hai sure did as it transformed at many levels. Apart from echoing love, loss, longing and survival, it became political and reflection of the times we live in.
When staged to packed houses in New Delhi recently, the play moved audiences to tears. "Theatre is not merely about intellect, it is created through the heart," Neelam says. Only when personal pain is processed through a creative work of art, the loss becomes a metaphor for several voids. Perturbed by the diminishing cultural values, what worries her most is the increasing polarisation that could well lead to loss of humanity. So, what can an artist do? "What can we do except telling stories? Artists have no constituency. But they do have a voice which can't be suppressed. Art generates a response and a reaction which may not catch many eyeballs. But silence is not an option."
As funds for arts dwindle, she laments: "An attempt is being made to muzzle our voices. After all, you don't take a sledgehammer and cut tongues. You just shrink the space for dialogue by throttling funds."
The scenario in Chandigarh, which could have been an art nucleus, too has her dismayed. "Allocated funds at the disposal of art bodies are used to entertain us in a very filmy, television serial sort of way." Invariably, she has little choice but to open her plays outside the city. Beyond the sardonic "who invites me here", lies disenchantment with those at the helm. She gets offers to make a play on Guru Nanak Dev or on Jallianwala Bagh and she is alright with a theme. What she is not okay with is the formulaic pattern of looking at things. But then the woman who has carved her own path can't be expected to walk on others.