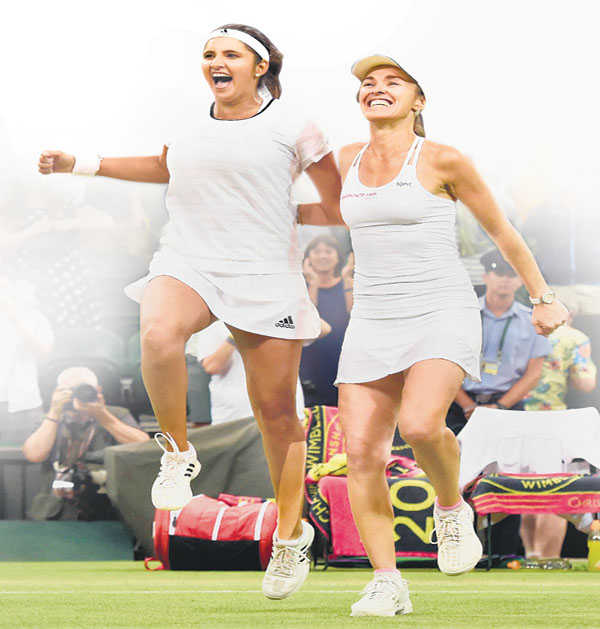 The triumph of three Indians last weekend at Wimbledon, the oldest and most prestigious of the world's greatest tennis tournaments, caused much thrill and excitement. The joy was, however, accompanied by a bit of bewilderment — if Indians can do so well in doubles tennis, what prevents their success in the singles?
There are several reasons, but the simplest answer is that singles tennis is extraordinarily tough — it's more tough than an average sports fan can comprehend.
A look at the incredible career of Leander Paes, probably India's greatest tennis player ever, would illustrate this. Paes, 42, is the oldest Grand Slam title winner in tennis, achieved in the doubles. But he had a noteworthy singles record as well. He won a bronze medal at the 1996 Olympic Games in Atlanta. Two years later, he won his first and only ATP singles title, at Newport; the same year he also beat Pete Sampras the only time they faced off. He has a great singles record in the Davis Cup team event, beating several top players like Henri Leconte and Goran Ivanisevic.
Yet, by the start of 1997, at age 23, Paes had probably figured out that he had reached a dead end in singles tennis. Between 1994 and 2001, in the singles field of 15 Grand Slam tournaments, he lost in the first round nine times; he lost in the second round five times, and reached the third round only once. In doubles, though, he has won 16 Grand Slam titles. The highest singles ranking he achieved was world No. 73 in August, 1998. Since then, only Somdev Devvarman has improved upon this, getting to world No. 62 in 2011.
Mahesh Bhupathi, the first Indian to win a Grand Slam event, the French Open mixed doubles in 1997, had his highest singles ranking of world No. 217 in 1998. He lost in the first round all four times he managed to get into the main draw of a Grand Slam event. In doubles, he has won 12 Grand Slam titles.
Sania Mirza, by far the greatest Indian woman player, reached the fourth round of the US Open in singles 10 years ago, aged 18. She has won one WTA Tour title, the 2005 Hyderabad Open. Her top ranking in singles was No. 27 in 2007. She has won four Grand Slam doubles titles.
During Wimbledon, Sania discussed why she gave up singles — it had become too difficult on her injury-prone body. "Tennis is getting so much more physical every day and it just was not possible anymore," she said. "For me, I have a fragile body, I had a few freak injuries. I had a bad wrist which took a really long time... my joints weren't good, it was not that I was unfit, I wasn't tearing my muscles or anything. I had to make a decision, and I love tennis too much to stop playing so soon."
This year, Sania became the world's top-ranked woman player in doubles tennis — despite the fragile body and the bad joints. She won the Wimbledon title with the 34-year-old Martina Hingis. Hingis herself has suffered terribly from pain and injuries, and retired from tennis at age 22 before making a comeback.
The injury-plagued Sania and Hingis won Wimbledon last week; at 42, Paes is a fantastic doubles player, sharp as ever, as he showed at Wimbledon. Much after the end of their prime in tennis, they're winning titles in doubles. Clearly, singles and doubles are vastly different.
Hingis explained this at Wimbledon. "In doubles, it's not as physical as you have to play more precise and more strategic, and sometimes you play every second ball," she said. "So there's a place to hide... but in singles, you have to play and run around for every single point. That's the difference."
Coaching singles players gave Hingis the idea of playing doubles tennis. "Coaching Anastasia Pavlyuchenkova and Sabine Lisicki, training and playing with them, I thought maybe I still have got the game... not in singles, but in the doubles I could still hold my own," she said.
Half the job
Frankly, doubles tennis is relatively easier — doubles puts much lesser stress on the body for it's roughly half the court for a player to cover. It's easier both physically and mentally — on the court, if you're having problems with your game, you have a friend to counsel and help you.
It's also simpler because the top players in the world don't play doubles at all. It was different in the 1980s, when the likes of John McEnroe and Martina Navratilova were regular doubles players, winning several Grand Slam titles. Modern singles tennis is too intense — for a top-20 player, it's almost impossible to focus seriously on the doubles. When they do, they can find success: Roger Federer won the men's doubles gold with Stan Wawrinka at the Beijing Olympics in 2008; Serena and Venus Williams have won 13 Grand Slam titles when they paired up.
Top players venture into doubles mainly to tune up their singles game, or as a substitute for practice. "A lot of players play the doubles because, rather than practising, they're in a match situation when they're playing doubles," says Bethanie Mattek-Sands, who's won the Australian Open and French Open women's doubles titles with Lucie Safarova. "You're playing in a match, facing the pressure and trying to win points. Doubles does a lot for singles."
Indians in doubles
For various reasons, Paes, Bhupathi and Sania decided at some point that it was prudent to focus on doubles. For Sania, it was the injuries.
For Paes and Bhupathi, it was the fact that their singles careers weren't going anywhere. It can be argued that they perhaps made the shift to the doubles a bit too early — Paes was only 24 and Bhupathi 23 when they began to prioritise doubles over singles.
Why did they do it? Just to survive in the world of tennis — they weren't making much money from singles tennis. Success in doubles made them Grand Slam champion, famous and richer than they could have been in singles.
Paes, for instance, made roughly Rs 50 lakh for his victory in the mixed doubles with Hingis at Wimbledon. Sania made around Rs 1.7 crore for her doubles win with Hingis. This is good money, even if it's dwarfed by what the singles champions took home, over Rs 18 crore each.
"Leander and Mahesh opened a whole new world for Indian tennis. Just to be financially secure in the sport, it made more sense to take up doubles," Gaurav Natekar, who was India's No. 1 junior before the emergence of Paes in the 1980s, says.
To take the next step
The struggles of Devvarman, India's best in singles after Paes, show how difficult life can be on the fiercely competitive ATP Tour. Devvarman, a legend of sorts in the US Collegiate circuit, seemed set for singles success six years ago. He was disciplined, athletic, had strong groundstrokes and a sharp mind. He reached the final of the Indian Open — the first Indian to do so — in 2009.
Then, in 2011, a shoulder injury had a serious effect on his rise.
Devvarman is soldiering on in the singles circuit. Even as three Indians won doubles titles at Wimbledon, Devvarman won a Challenger tournament in the US last week. Devvarman is 30, and it may not be long before he decides that he can do with a partner on the court — if that happens, Sumit Nagal would be the man with the burden of India's singles tennis on his shoulders.
Singular focus on singles
A doubles title at Wimbledon may have brought Sumit Nagal into the limelight, but he wants to focus on singles tennis, for he knows that that's the real deal. That's been the focus of his life right from the day he started training seriously. "I'm a singles player primarily, and that was my focus at Wimbledon as well," says Nagal. "My current aim is to improve my singles ranking to No. 300 or better by February 29, 2016."
For the uninitiated, that represents a massive leap in the life of a tennis player — the next goal would be getting into the top 200, then the top 100. "Winning a single title is a big challenge, and that's what I'd like to do," he says. "I want to take challenges — life is all about challenges. I don't like giving up so I am going to do my best and chase my goal."
It's a massive challenge, says Naresh Kumar, the former Indian player and columnist. "It can take a long time, perhaps four years, to get into the top-100," he says. "For each year, you need $125,000 a year, to train, travel and play tournaments. This just can't happen if you don't have solid financial sponsorship. You need to play with players better than you, and all this can't happen in India."
Nagal trained with a Canadian-Indian coach, Bobby Mahal, in India and then in Canada for a total of over six years until 2014. The move to Canada was necessary — the tennis programme that funded Mahal's project in India was closed in 2010. Last year, Nagal moved base to Germany.
"We don't have access to facilities in India like courts and gym, etc. We don't have too many good coaches in India, and the ones we do have live far," says Nagal. "The weather here (Europe) helps us a lot. It's really tough to play five to six hours in the Delhi heat."
The intensity and the competition are absent in India. "I was discussing this with Rod Laver," says Naresh Kumar. "The Australian players play the whole day, six-seven hours a day. You can't do that in India."
You also need great support — even singles tennis is a team sport, for you need a personal coach, trainer, physio, nutritionist, a sports psychologist. "When you're playing six-seven hours a day, you can sometimes do the wrong thing, and you need advice and support if you pick up an injury," adds Naresh Kumar.
Nagal knows all this. He knows it's just the beginning of the journey, he's preparing for the road ahead. He knows it's going to be very tough.