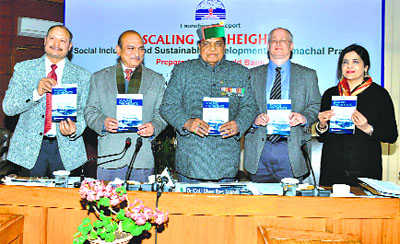 Bhanu P Lohumi
Tribune News Service
Shimla, January 28
Himachal Pradesh has made great strides in reducing poverty and attaining best human development outcomes, but female child sex ratio, under-nutrition in children and an ageing population still remain issues of concern, says a new World Bank report.
"One of the main achievements of Himachal was its success in raising people out of poverty and reducing poverty fourfold between 1993-94 and 2011. Poverty in rural areas, where 90 per cent people live, declined from 36.8 per cent to 8.5 per cent," says the report. Entitled "Scaling the Heights: Social Inclusion and Sustainable Development in Himachal Pradesh", it was released here today by Social Justice and Empowerment Minister Col Dhani Ram Shandil (retd).
"Educational attainment in the state is among the best in the country; poverty headcount is nearly one-third of the national average; life expectancy is 3.4 years longer than average; per capita income is the second highest in India; and inter-group disparities are also low inspite of traditionally disadvantaged groups like Scheduled Castes and Scheduled Tribes constituting 30 per cent of the population.
"Himachal is ahead of many other states in demonstrating a sense of environmental consciousness," the report said.
The report further stated that half of the urban men and one-fifth of the urban women had regular salaried jobs in 2011.
The state is close to being declared open-defecation free and, despite the difficult topography, has a good road network and electricity is available everywhere, says the report.
However, decline in the female child sex ratio, under-nutrition in children and care of ageing population, which would increase from 7 per cent to 14 per cent by 2025, are issues of concern.
As Himachal Pradesh will have a high share of the elderly, increasing urbanisation may imply a change in living arrangements for their care.
Moreover, one-third of children in 0-5 years of age in the state were underweight in 2011. Infant mortality rate within one month of birth is quite high and drives the overall mortality rate.
Pointing out that the state is also likely to face new challenges even in areas where progress has been made and in areas like primary education where the works seem nearly done, quality of education and ensuring that large, educated youth cohorts have adequate skills for jobs will be a key policy issue.
Lead Social Development Specialist, World Bank, Maitreyi Das, who is the author of the report, said, "Although Himachal stands apart from many states in India in poverty reduction, service delivery and human and social development outcomes and future economic growth is expected to result in significant economic gains, yet it can also entail potential costs as the state will have to deal with new challenges".
Stressing on protection of environmental heritage, the report said that although the attitude of the people toward economic development is positive, their support for the current growth trajectory is conditional on the extent to which the state's social and environmental heritage would be protected.
Top News
The minister's comments come against the backdrop of the US ...
Describing the allegations levelled by Justin Trudeau agains...
Raids 51 places in Punjab, Haryana, Rajasthan, UP, Delhi
The seized substances are three packets of narcotics, wrappe...
Ashwani Kumar's work on potential reduction in TB treatment ...