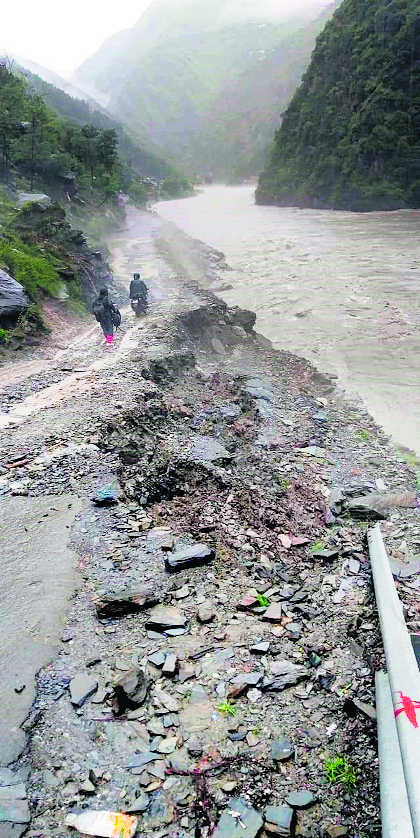 ROBINSINGH@TRIBUNE.COM
Tribune News Service
Shimla, August 19
Most parts of Himachal, ravaged by heavy rain in the past 72 hours, started limping back to normalcy even as some parts were lashed by heavy rain today.
The rain fury abated to some extent and restoration works were on full swing but still normal life was crippled in many areas. As many as 1,088 roads were closed due to landslides of which 513 roads were expected to be opened today. As many as 459 roads were closed in Shimla zone, 314 in Mandi zone, 191 in Kangra zone and 91 in Hamirpur zone. The Kiratpur-Manali, Shimla-Kalka and Hindustan-Tibet highways were opened to traffic.
The rain-related incidents have so far claimed 48 lives, including 25 in past two days, and loss to public property was estimated at Rs 574 crore. Two Nepalese children were washed away while crossing a swollen nullah at Kaidi in Nerwa of Shimla district. The bodies of the deceased, identified as Lekh Raj (9) and Vishal (6), were recovered. Four vehicles were also washed away in the swirling waters of Diyalari Nullah in Chopal.
Chief Minister Jai Ram Thakur asked the district administration to advise locals and tourists, not to venture near river as a sudden rise in the water level could pose risk. Debris and blockades on Kalka-Shimla and Pathankot-Mandi-Manali roads must be kept open to ensure smooth traffic.
Heavy rain occurred in some parts and Arki was the wettest with 124 mm rain while Mehre, Bangana, Naina Devi and Baldwara recorded 74 mm, 66 mm, 64 mm and 62 mm rain, followed by Dalhousie 48 mm, Banjar and Bhuntar 40 mm, Salooni 33 mm, Hamirpur 32 mm, Ghumarwin 30 mm. Shimla and surrounding areas experienced 40 mm rain.
As the apple transportation is on its peak from August 15 to September 15, Shimla ADC Apoorv Devgan and ADM (protocol) Naresh Thakur have been deputed to Chopal and Jubbal to supervise relief and rescue operations.
They will ensure that there is no obstruction and apple growers are not overcharged by transporters, besides ensuring restoration of IPH schemes and cutting of dangerous trees, said Deputy Commissioner Amit Kashyap. Food and medical aid had been sent to Snail in Uttarakhand, which was near Rohru, following a cloudburst, he added.
The Met office has predicted rain and thundershowers for six days from August 20 to August 25.
The heavy rain has wiped out the monsoon deficit from June 1 to August 19, which has been reduced to just 2 per cent.
Top Stories