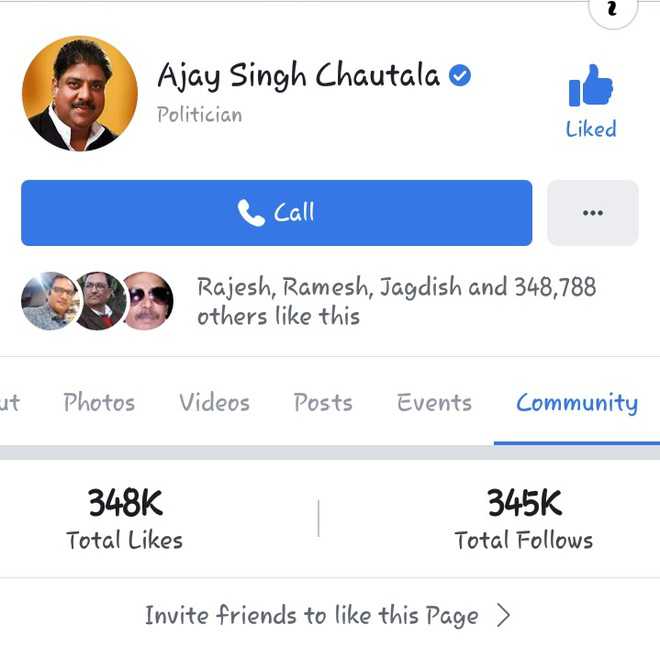 Vishal Joshi
Tribune News Service
Kurukshetra, December 16
Former Member of Parliament and legislator Ajay Singh Chautala may be serving 10-year jail term in the teachers' recruitment scam, but he continues to hold person of eminence status with 'blue tick' on his Facebook (FB) account.
Father of Lok Sabha MP from Hisar Dushyant Chautala, Ajay has reportedly been granted the verified page for being a "politician".
Ajay's FB page has over 3.45 lakh followers, while 3.48 lakh FB account holders have "liked" it.
The page is highly active and used for hosting live webcasts of political activities of the recently constituted Jannayak Janta Party (JJP) and previously the Indian National Lok Dal (INLD).
However, cyber and legal experts say not all public figures or celebrities get this privileged status on the social media platforms of FB and Twitter.
Application for a 'blue badge' is subjected to various levels of scrutiny by social media platforms.
These social media platforms offer verified account to an individual in recognition of his or her contribution to society in their respective profession or area of interest.
New Delhi-based corporate lawyer Hemant K Batra told The Tribune that the Haryana Government should approach Facebook for the immediate closure of Ajay's verified page as it was glamourising a convict.
He said the social media platforms were governed by the Indian law and it should play a proactive role in the permanent withdrawal of verified accounts once a person was convicted in a crime.
"Ajay has been held guilty in a criminal case. After assigning a verified page in his name, FB had granted him a special status. There is a need for legislation to handle such issues where social media account of a convict or an accused is suspended as per legal procedure," said Batra.
A social media watcher said the Digital Investigation Training and Analysis Centre (DITAC), a covert division of the Haryana Police, should have intervened in the matter.
He said after the conviction, Ajay was legally barred from contesting any election. "But, he continues to enjoy a special status on the FB and it is questionable," said the analyst.
"DITAC played a key role in curtailing virtual presence of rape convict Sirsa dera head Gurmeet Ram Rahim Singh. The agency should act in this case as well," he said. Dushyant was unavailable for comment.
Top News