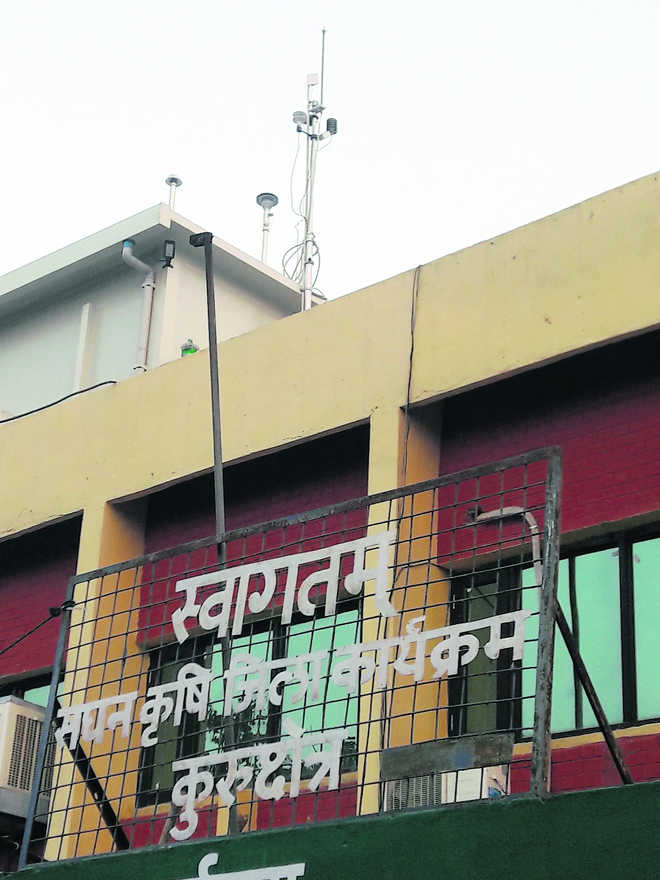 Vishal Joshi
Tribune News Service
Kurukshetra, January 2
The Haryana State Pollution Control Board (HSPCB) has installed continuous ambient air quality monitoring stations (CAAQMS) at 19 locations in different districts to regularly monitor air quality.
The board's senior scientist and nodal officer of the project, Dr Rajesh Garhia, told The Tribune on Wednesday that stations would start working from January 15.
He said real-time data about air quality would be shared simultaneously by the Central Pollution Control Board (CPCB) and HSPCB. Also, digital display boards would be erected at all sites for public viewing about the air quality at their respective places.
Garhia said a dry run of various stations, except Kaithal, was successful.
He said Haryana had become the first state in the country with such a vast network of CAAQMS.
"The initiative will assist the state and central authorities to analyse the data and accordingly, formulate measures to improve air quality," added the expert.
HSPCB has spent Rs 1.43 crore on each station. Garhia said a site for CAAQMS had been finalised in Kaithal and the work to set up another unit at Charkhi Dadri would be completed soon.
At present, four such stations at Faridabad, Gurugram, Rohtak and Panchkula are functional.
Garhia said the CAAQMS would gather the air pollutant data from a 3-km radius and it would be analysed automatically.
The CPCB has allotted a sum of Rs 7.5 crore to Haryana to establish three more CAAQMS in the industrial towns of Gurugram and Faridabad for comparative analysis of pollution levels in the NCR, he added.
Target
CAAQMS will observe parameters including sulphur dioxide (SO2), nitrogen dioxide (NO2), ammonia (NH3), ground-level ozone (O3), carbon monoxide (CO), benzene, sub-types of atmospheric particle matter, including suspended particulate matter (SPM), respirable suspended particle [RSP particles with diameter of 10 micrometres or less i.e. particulate matter (PM)10], fine particles in real time
Locations
Dharuhera (Rewari), Sonepat, Panipat, Bahadurgarh (Jhajjar), Karnal, Kaithal, Yamunanagar, Manesar (Gurugram), Faridabad, Ambala, Bhiwani, Fatehabad, Hisar, Jind, Kurukshetra, Mahendragarh, Nuh, Palwal, Sirsa.
Top News
The survey said the pace of price increases is not high enou...
81-year-old is currently lodged in a Jodhpur jail, where he ...
Was addressing the joint sitting of both Houses of Parliamen...
Baljinder Singh and Harpreet Deol Both are Pentecostal pasto...
135 people were killed in last year's suspension bridge coll...