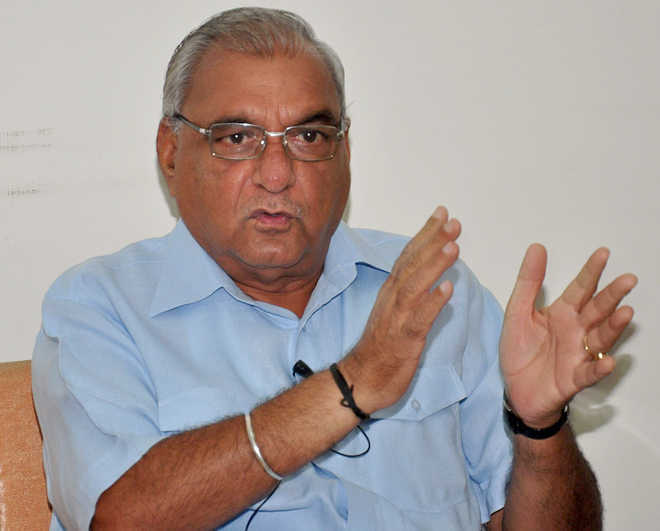 Tribune News Service
New Delhi, December 1
The Central Bureau of Investigation today filed a chargesheet against former Haryana Chief Minister Bhupinder Singh Hooda, veteran Congress leader Moti Lal Vora and Associated Journals Limited (AJL) for alleged irregularities in re-allotment of an institutional plot in Haryana, resulting in a loss of about Rs 67.65 lakh to the exchequer and gain to the private company.
Filed in the court of the Special Judge at Panchkula, the chargesheet alleges conspiracy and cheating against Hooda, the then chairman of the Haryana Urban Development Authority (HUDA); Vora, who was then chairman of the company, and AJL in connection with re-allotment of the plot (C-17) in Sector 6 of Panchkula to the company.
The CBI chargesheet said the accused, in conspiracy with others, allegedly abused official position and dishonestly re-allotted the institutional plot at old rates.
On the request of the Haryana Government, the CBI registered a case on April 5 and took over the investigation of the May 2016 case.
It was alleged that the company was allotted the plot by HUDA on August 24, 1982, for publication of Hindi daily "Navjivan".
The Estate Officer, HUDA, Panchkula, through its October 30, 1992, order took back the plot after the company failed to carry out construction, as per the terms and conditions of allotment.
The company's appeal against the resumption order was dismissed by the Chief Administrator, HUDA, on July 26, 1995. Its revision petition before the Finance Commissioner and the Secretary, Town and Country Planning, too, was dismissed on October 10, 1996.
The Legal Remembrancer, Haryana, tendered an opinion that the resumed plot could not be re-allotted, since the order had attained finality after dismissal of the revision petition. HUDA officials allegedly proposed that an advertisement be floated for re-allotment of the plot.
The CBI further alleged that Hooda, the then chairman of HUDA, and officials entered into a conspiracy with the private company and misused their official position by wrongly ordering re-allotment of the institutional plot at old rates, plus interest to the private company through an order dated August 28, 2005. It was cleared by the then HUDA chief, causing a loss of Rs 62 lakh to the exchequer, it was alleged.
It was alleged that the Hindi daily was never published from the premises, which remained unused. The plot was instead mortgaged by the company to Syndicate Bank, New Delhi, and the loan availed against the mortgage of the plot was used for commercial purposes, the CBI alleged.