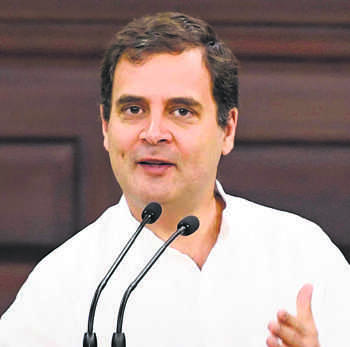 Geetanjali Gayatri
Tribune News Service
Chandigarh, October 13
While BJP heavywetights are criss-crossing Haryana as they campaign for party candidates in 90 Assembly segments, the Congress will open its account of biggies on Monday, with Rahul Gandhi set to address his first and probably only rally in Nuh.
Into the last week of campaigning in Haryana for the Assembly elections slated for October 21, campaigning throughout the state for the Congress has essentially been limited to the new team of state president Kumari Selja and Congress Legislature Party leader Bhupinder Singh Hooda while other leaders, despite their own election, are campaigning in neighbouring constituencies.
Though the Congress drew up a list of 40 star campaigners for the party right after the filing of nominations was over, none of the big names in the list campaigned in the state so far. The list included the names of Congress president Sonia Gandhi, former Prime Minister Manmohan Singh, Rajasthan Chief Minister Ashok Gehlot, Punjab Chief Minister Capt Amarinder Singh, general secretary incharge Ghulam Nabi Azad, senior leaders Anand Sharma, Salman Khurshid, Rajiv Shukla and Raj Babbar and young leaders Jyotiraditya Scindia and Sachin Pilot.
The party and candidates have essentially limited themselves to local leaders who exercise influence in their respective areas and there is hardly any demand for big leaders from the candidates themselves.
Maintaining that this direct contest between the Congress and BJP will be more about personal contact and connect with voters, a candidate has explained that organising a rally for a big leader at this point will mean having to devote precious time to the programme, which they can ill-afford.
Further, simultaneous elections in Maharashtra is being seen as another reason for top names failing to make it to Haryana. Though big names in the list of star campaigners have stayed away so far, party leaders maintain that post manifesto release, these leaders will visit various Assembly segments and campaign for candidates.
The chairman of the campaign committee, Capt Ajay Yadav, said the demand for programmes of Congress leaders by candidates was being made to Kumari Selja, who was coordinating the campaigning as well.
Top Stories