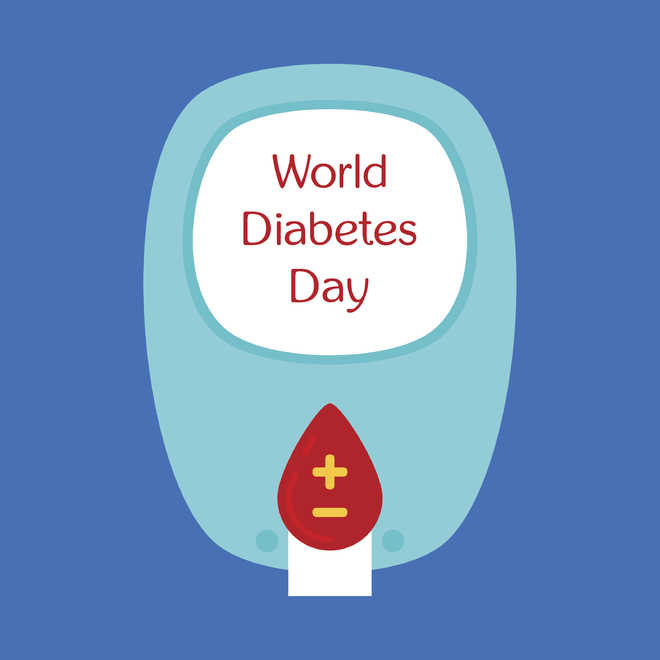 Sunit Dhawan
Tribune News Service
Rohtak, November 13
India has around 62.4 million people with diabetes, and the number is set to surpass 100 million by 2030, as per the Indian Council of Medical Research (ICMR).
The majority of people with diabetes (more than 90 per cent) have Type 2 diabetes (T2DM), which predominantly affects elderly persons in developed countries and the younger population in the prime of their working lives in developing nations such as India.
"The so-called 'Asian-Indian Phenotype' refers to certain unique clinical and biochemical abnormalities in Indians. It makes Asian Indians more prone to diabetes and premature coronary artery disease (CAD)," Dr Sameer Aggarwal, a former professor of endocrinology at the Post-graduate Institute of Medical Sciences (PGIMS), Rohtak, told The Tribune here on Wednesday.
He said complications associated with diabetes never showed symptoms initially. "But with regular check-up, right treatment and lifestyle changes, diabetes can be prevented or its risk minimised."
"For instance, patients with diabetes are two to three times more likely to have a stroke or a heart attack and are more prone to cardiovascular diseases. To reduce the risk of heart and blood vessel diseases, patients must quit smoking, should exercise regularly, and minimise the intake of greasy and oily food for diet plays an important role in the well being of a man. Patients must monitor their blood sugar and blood pressure regularly, as recommended by doctors," Dr Aggarwal said.
The doctor further said patients with diabetes often had high blood pressure, which put more strain on the cardiovascular system and increased the risk of eye and kidney complications.
ABC of diabetes
Those living with diabetes can reduce the risk of complications by focusing on the ABC formula
A for A1C: The A1C blood test indicates the average blood sugar level in the past few months; it should ideally be less than 7%
B for blood pressure: Blood pressure in most cases should be less than 130/80
C for cholesterol: Ideally, low-density lipoprotein (LDL) cholesterol should be below 100 mg/dl
Top News
Jammu and Kashmir Lieutenant Governor Manoj Sinha and politi...
Cops say case cracked within three days with the arrest of a...
Indonesia football association suspends league to investigat...
Samajwadi Party patron is under treatment in Gurugram hospit...
DGP dismisses Mansa CIA Incharge, FIR registered against err...